Want a Louder Crowd? Build a Better Stadium
19 September 2017 by Sam Shillet | 3 min read
PLAY OF THE LAND
Whether it's the sound of a jet engine overhead, the boom of a fireworks display or the early-morning rumble of a garbage truck, loud noises and big cities go hand in hand. But did you know that you may experience the loudest noise levels in the world at a sports stadium near you? That's especially true in cities like Seattle and Kansas City, Mo.
In fact, stadiums are now being meticulously designed to maximize crowd roar.
Most new developments either use a completely covered dome, a retractable roof or an open bowl.
The Seattle Seahawks' home stadium CenturyLink Field and Arrowhead Stadium, home of the Kansas City Chiefs, are on record as being the loudest in the world. The Guinness Book of World Records measured the Seahawks' loudest game at 137.6 decibels in December 2013. Not to be outdone, in September 2014, Arrowhead Stadium clocked in at a deafening 142.2 decibels. (For reference, a thunderclap is about 120 decibels and an aircraft carrier deck full of jets is 140. Eardrum rupture occurs at 150 decibels.)
But what's the science behind the sound? Inspired by Europe's older soccer stadiums like Manchester United's Old Trafford, or Liverpool's Anfield, the Seattle Seahawks put a partial roof on CenturyLink.
Stadiums built for sound
Completed in 2002, CenturyLink Field is still an outlier. Most new developments use a completely covered dome, a retractable roof or an open bowl. In contrast, CenturyLink's partial roof (much like the ones used English stadiums) was designed to protect fans from rainy conditions and to reverberate sound back onto the field. The materials used in the roof are also ideal for acoustics, and make for an intimidating environment for opposing teams. Most older American football stadiums were built like open bowls and never lent themselves to containing sound like English stadiums.
There are some exceptions to the rule, however, as sheer size and rowdy fans have produced extremely loud environments.
It's that engaged fan base that really creates the environment.
When Arrowhead Stadium was constructed, the Kansas City Chiefs employed the help of architecture firm Populous to renovate one of the National Football League's oldest stadiums in 2007. They enhanced the sound from the already raucous crowd by doubling the size of the concourses, which reflect sound back into the field of play. The stadium already benefits acoustically from the field being "built below grade …[and] it's that engaged fan base that really creates the environment," says Bruce Miller, senior architect and senior principal at Populous. "No matter what we do as architects, it relies a lot upon an engaged fan base."
Miller is an expert on a variety of stadiums, including those used by the NFL, Major League Baseball and Major League Soccer.
Making acoustics the goal
According to Miller, the next wave of stadium acoustic technology development is happening in soccer.
His current focus is on Major League Soccer, where fans are starting to create a more authentic atmosphere. Open-air NFL stadiums continue to pump in sound and music via PA speakers. New MLS soccer-specific stadiums, instead, utilize structural technology more than any other American sports league.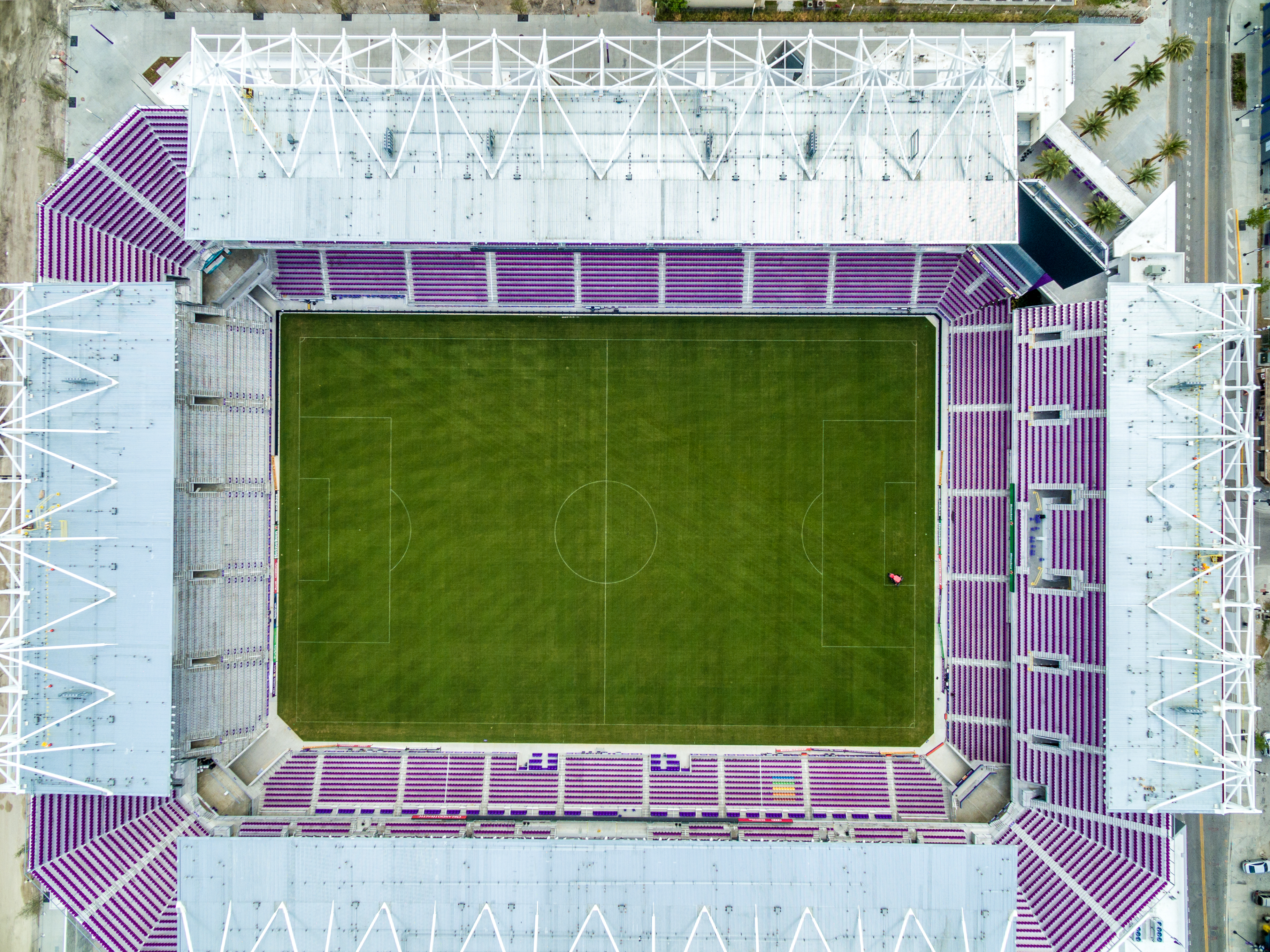 Orlando City Stadium, which opened this year, is noted for having an aluminum bowl (which reflects sound better than concrete), a standing section and a roof–all making for an extremely loud and formidable home field advantage. Miller's next project will be Minnesota United's new home, Allianz Field, which is slated to open in 2018. It will have the perfect combination of an aluminum bowl, a roof and an innovative "complete skin" around the stadium, which will help reflect sound back to the pitch.
While American soccer stadiums are considerably smaller than those in the NFL (capacities are around 20,000 versus 70,000), it's clear that they are leading the charge with the latest crowd enhancement technologies. Look to Europe again, where Tottenham Hotspur's new stadium (expected to be completed in time for next season with a capacity of 61,599) is implementing acoustic technology as well.
Don't be surprised to see one of these high-tech stadiums popping up in your city soon. Major League Soccer is the United States' fastest growing sports league.

MORE FROM PLAY OF THE LAND: