This Cafe is the Cat's Meow – Literally
12 April 2016 by Daniel Rosen | 3 min read
THESE WALLS CAN TALK
Koneko Cat Cafe in downtown New York City offers its customers a bit more than the standard coffeehouse fare. In addition to serving up lattes and pastries, Koneko (Japanese for "kitten") lets customers enjoy the company of the cats taking up temporary residence there, making it one of the most unusual cafes in New York City.
"It's difficult to stand out and make a statement in New York, so the idea of bringing a new and unfamiliar experience to New Yorkers was exciting," says Benjamin Kalb, the 27-year-old founder of Koneko.
Customers can dine on snacks and enjoy a glass of wine in the cafe portion of Koneko. There's also a retail store that sells hip cat-themed clothing, tote bags and cat furniture. And for those looking to add to their art collection, Koneko has an exhibition space that sells art by celebrated artists like Shepard Fairey and Tim Diet.
The result is not just an ailurophile's paradise, but a retail space that maximizes its revenue streams by offering a multifaceted shopping experience.
"Koneko wears many hats—third-wave coffee cafe, izakaya bar, cat rescue agency, art gallery and event space. This allows us to keep things fresh and create a memorable experience," says Kalb.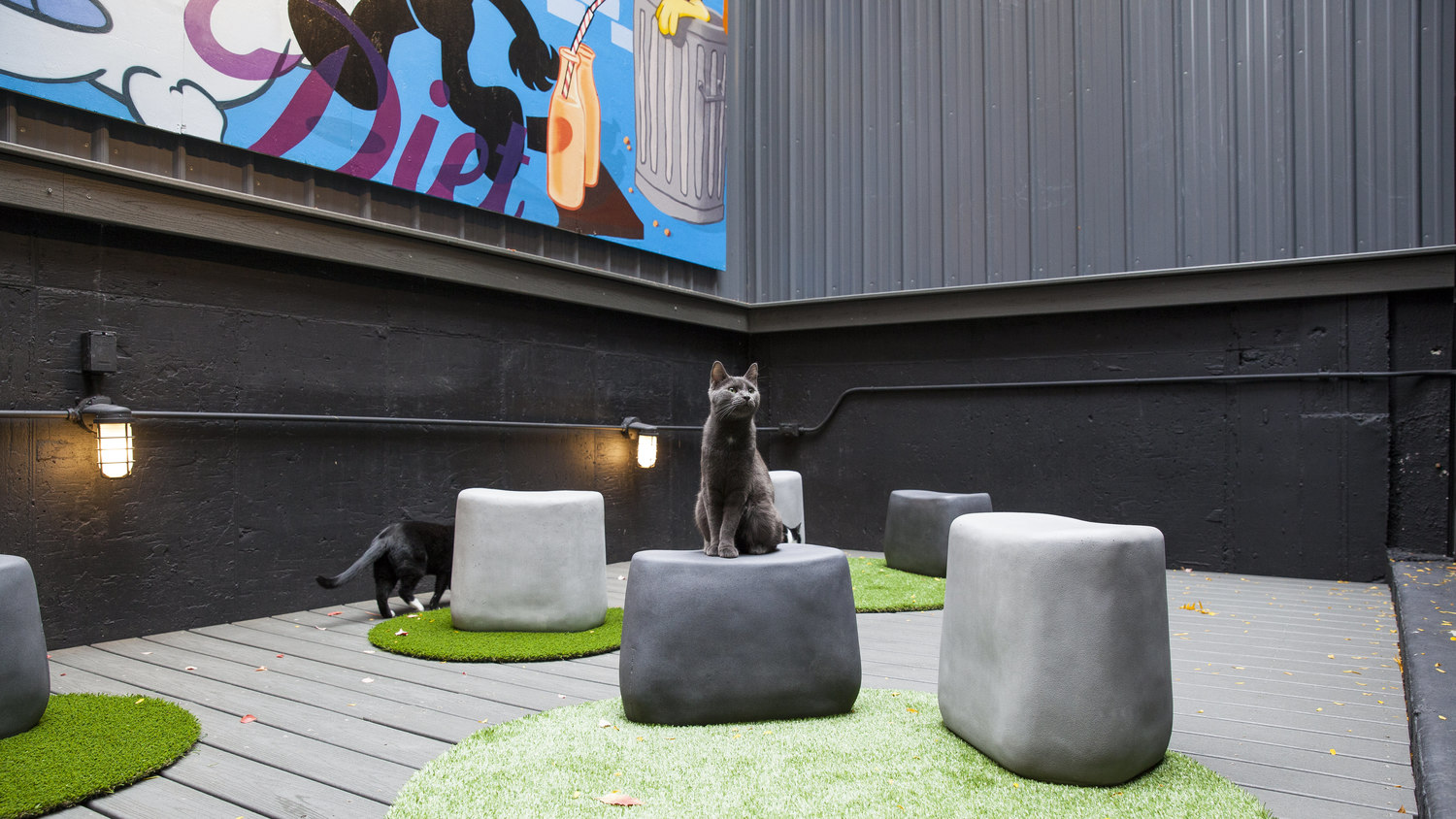 It's Big in Japan
Kalb came up with the idea during a trip to Japan, where animal-themed cafes have been growing in popularity in the country over the past decade. (For instance, 79 cat cafes opened between 2005 and 2010, reports VICE.com.)
In a country where many apartment buildings forbid tenants from owning cats, Japanese customers visit these cafes to feed, pet and enjoy the company of a variety of animals—be they owls, snakes or hedgehogs—all for a price of around US$9 an hour.
Kalb visited a broad spectrum of cat cafes across Japan, giving him a better idea of the appeal of eating, drinking and relaxing in the company of cats in a commercial setting.
"Some were very homespun and felt like grandma's living room, while others were chic and had a strong design sensibility," says Kalb.
He also picked up what the average customer enjoyed about these cafes. No matter how nice a cafe's decor was, if a cat was lounging on the floor, the customer would lay right next to them. In other words, it is better to design for the animal than it is for a human.
"I applied this logic to the design of Koneko's cattery," says Kalb. "All the seating is low to the ground and allows for people to be comfortable while interacting with the cats."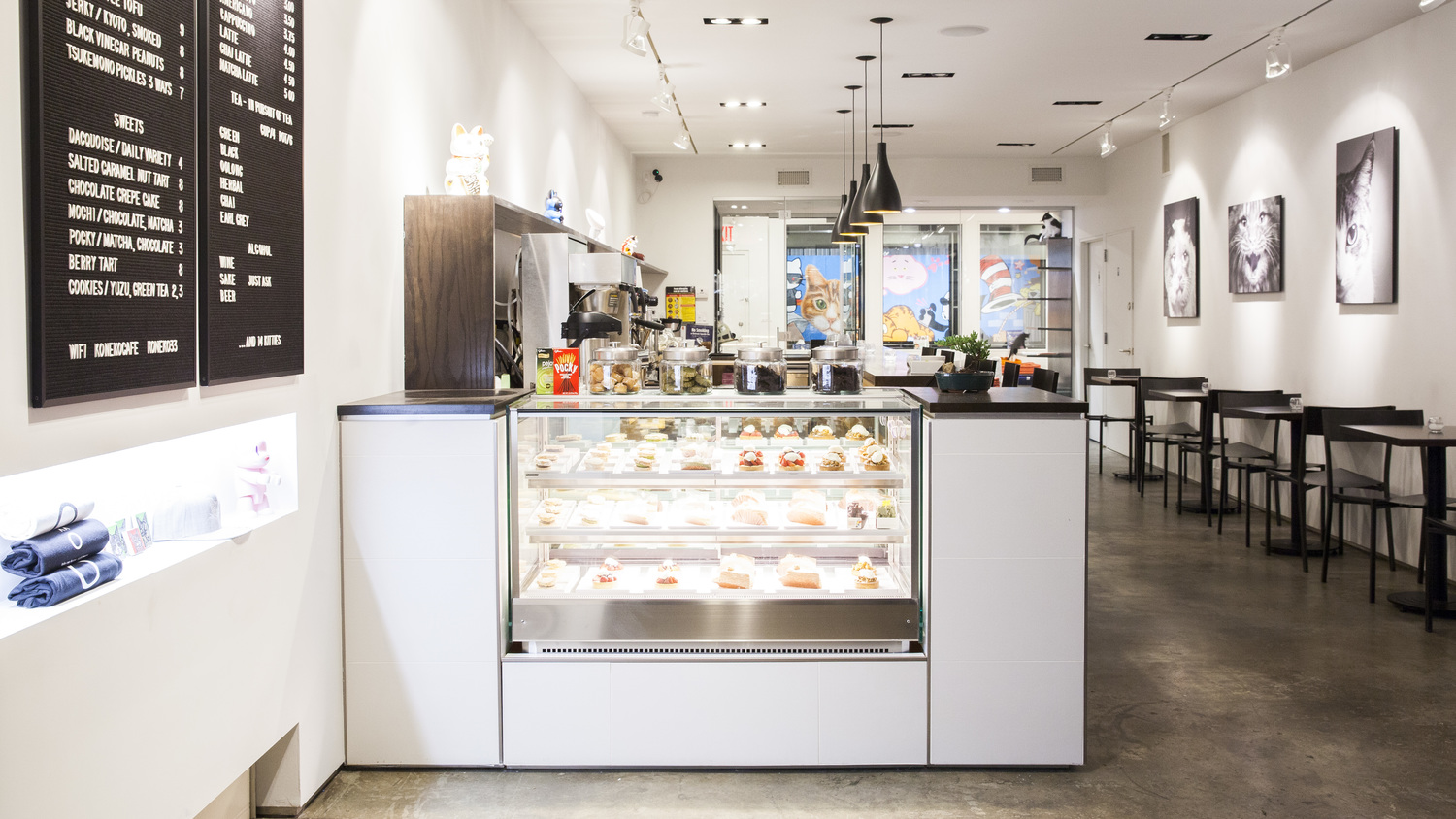 Keeping It Clean
Eating in the presence of 20 cats may not be the most sanitary of dining experiences. When Kalb came up with the business plan to open Koneko at 26 Clinton Street, he knew that selling the idea to New York City's Department of Health would be a challenge.
Kalb needed to have a space where the cats could be separated from the food, which is why the store features separate entrances for the cattery and the cafe. This ensures as little cross-contamination as possible, says Kalb, and also creates a dynamic space for the cats to wander around in.
"One thing I observed in Japanese cat cafes is that the smaller, single-room cat cafes felt less successful in terms of the overall experience. It's fun to follow the cats around, to see them explore," adds Kalb.
The ultimate design for the space did just that, installing a floor-to-ceiling glass wall to separate the 600-square-foot cafe from the 700-square-foot, two-story cattery (which also has an outdoor space that has appropriately been nicknamed the "Catio"). Koneko collaborated with Co-Office on the design and build.
The cats themselves come by way of Anjellicle Cats Rescue, a cat rescue and adoption group based in Manhattan. In addition to providing a dining and shopping experience like no other, Kalb wants his customers to adopt one of his cats.
"Thousands of animals are euthanized in New York City every year. The rescue component of Koneko is central to everything we do," says Kalb.
While the store is still in its infancy, Kalb has ideas of bringing sake tastings, origami classes, introductory Japanese language classes and meet-and-greets with New York's most famous cats to the space.
Says Kalb: "The fun thing about Koneko is that pretty much any familiar event is immediately made more interesting by having cats involved."
MORE FROM THESE WALLS CAN TALK: