The Power of Placemaking in a Digital World
20 May 2016 by Giovanna Fabiano | 4 min read
PLAY OF THE LAND
These days, you can have anything from clothing to produce delivered straight to your door, with the tap of a smartphone. You can download the latest bestseller and read it on your tablet, and take a yoga class online, from the comfort of your living room.
The convenience digital technology offers is undisputed, but does it trump the physical experience? Does the rise of e-commerce mean we'll no longer go to a dress shop to try on clothes before we buy them, or stop picking fruit at the market, to determine its ripeness by touch? Are the days of rustling through shelves of books, or participating in a live class, where we can make tangible connections with others in the same room, numbered?
No. But landlords, retailers and developers will have to work a little harder to attract and engage a new, more digitally savvy audience faced with more options than ever before.
That's where placemaking comes in. Placemaking has long been associated with a community-oriented approach to design that aims to create spaces and environments that attract, inspire and engage.
People like to be in an omni-channel shopping environment, and it's amazing how quickly retailers have adapted to handle this change.
But what does that mean for retail?
"Placemaking is a really broad theme that everyone talks about, but no one really defines," says Melina Cordero, Americas head of retail research at CBRE.
"For retailers and landlords, it means finding new ways to attract people to physical retail, and that's become really critical and interesting due to the rise of e-commerce."
Despite the rise of online shopping, brick-and-mortar is not dead—in fact, it's far from it. More than 92 percent of total retail sales in the U.S. still happen in stores, and although online sales will continue to rise, e-commerce penetration is projected to remain below 10 percent
 over the next three years, according to the U.S. Census Bureau.
"Are web customers different from those who shop in physical stores?" Steve Morris, of Asset Strategies Group, asked in panel meeting at the Urban Land Institute.
"It turns out that they are nearly identical. People like to be in an omni-channel shopping environment, and it's amazing how quickly retailers have adapted to handle this change."
Adapting can mean different things, depending on the type of business. From independent record stores and booksellers to large retailers opening up a pop-up shop, there are three aspects of placemaking that can help attract and engage customers, and keep them coming back.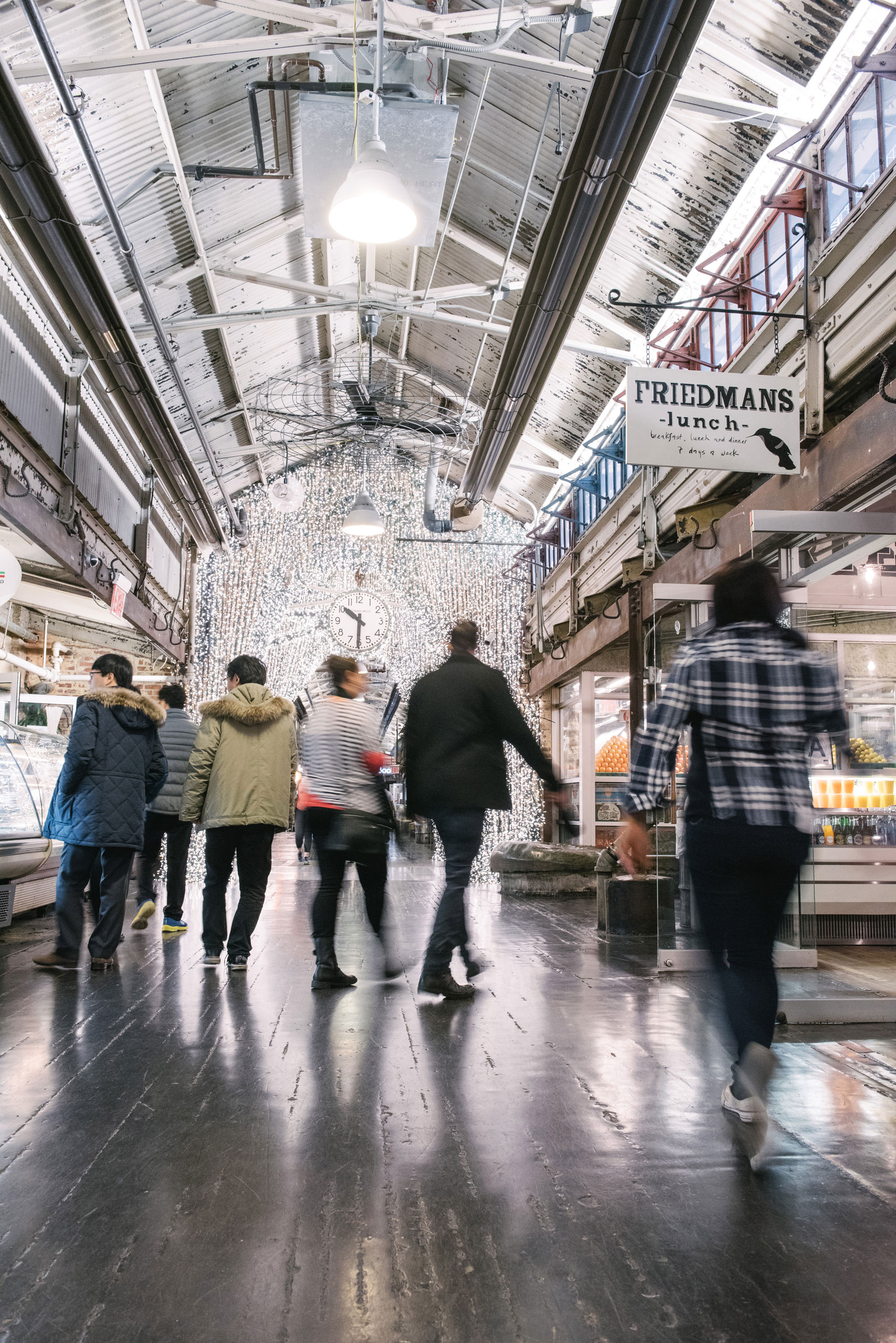 Customers want choice
The new customer will pick a mixed-use shopping plaza over a big-box store for a variety of reasons, one of which is an element of surprise. In cities in particular, food and market halls—like Eataly, Todd English's Food Hall or Chelsea Market—are becoming increasingly popular with consumers.
"It's like a treasure hunt. Consumers really want that choice and variety. With pop-ups and temporary retail—like the Chelsea Market model — you don't know what you're going to get, and that's exciting," says Cordero.
There's also the FOMO (fear of missing out) factor, she says.
"People think, 'If I don't go, I'm going to miss all these cool new products.' It's all about surprise, and retailers are figuring out how to bring that element of surprise and fun to their physical stores," Cordero says.
Convenience wins
In today's fast-paced world, the leisurely shopper is almost non-existent. So while consumers want unique experiences and an array of choices, they're not necessarily willing to drive long distances, park far away or make multiple stops. This is where retailers who make the best use of digital technology have an advantage. Stores that allow customers to order online and just pick up in-store, digital wayfinding apps that help shoppers navigate their surroundings, or smart parking apps that help them avoid circling for a space are all key elements of placemaking.
Cordero's prediction: "The queue is not going to exist anymore. We as consumers are not going to stand for it."
An elevated experience
Restaurateur Danny Meyer, who built an extraordinarily successful empire on hospitality, wrote in his book, Setting the Table: "Business, like life, is all about how you make people feel. It's that simple, and it's that hard."
How can retailers make their space an engaging- and interesting-enough destination so that consumers prefer shopping in a physical location?
Retailers should differentiate themselves by offering unique, customer-centric experiences, Cordero says.
"There are definitely concierge elements to this," says Cordero. "Going to the Blow Dry Bar is half about the blow dry and half about the champagne they pour you when you sit down."
But differentiation is also about catering to customers that aren't necessarily there to purchase products.
Athletic wear company Lululemon hosts yoga workshops in its retail stores, Nike holds free running club meet-ups, and REI organizes trips and classes.
"Landlords and retailers may have to work a little harder to stay relevant, but the end of the mall or the physical store is not near," says Cordero. "Retailers are expanding and offering a diversification of uses, function and aesthetic—the live, work and play model is attracting customers."
MORE FROM PLAY OF THE LAND: