The Amazing Corn Maze: Rising Agritourism Brings City Dwellers to the Country
31 October 2016 by Emma Kantrowitz
HYPERLOCAL
Traditionally, American farms existed to grow crops and raise livestock—the backbone of the U.S. agricultural system. Today, farms have also become a destination. Nationwide, both urbanites and rural dwellers alike flock to farms each autumn for a very specific, albeit fun, purpose: to see spectacular corn mazes.
Corn mazes have become as much of an anticipated autumn pastime as apple picking and visits to the pumpkin patch. And gone are the days when farmers would simply mow concentric circles in a field and encourage patrons to try and find their way out of the maze for fun. Thanks to technological advancements, farmers are now creating highly elaborate designs in corn fields that become intricate masterpieces when viewed from above. Visitors pay around $10 to wander through these artistic fields, not to mention stock up on apple cider and other enticing farm fare.
Today, farms have also become a destination.
Ten years ago, after operating corn mazes in Colorado and Utah, Hillary and Jim Lowe took over operations of The Farmstead in Meridian, Idaho, and realized they had an opportunity to turn the already popular corn maze into a seasonal sensation that would bridge the gap between urban residents in nearby Boise and the local rural population. This year, the Lowes chose The Tonight Show as the theme for the maze, and carved host Jimmy Fallon's face into the field.
"Jimmy's a comedian we enjoy and we thought we could have some fun spinning the idea off of that," Jim Lowe said. Thanks to the power of social media, the maze attracted local and national acclaim. Fallon even mentioned it on the show.
"One of the unique things about this whole idea of agritourism is that it's an interface between agriculture and the urban population," Lowe said. "You've got to be within easy reach of the population base, and you've got to have the production of agriculture. We're not only providing a great time and a lot of fun, we're also connecting people with things we're doing on the rest of our farm, and that's important."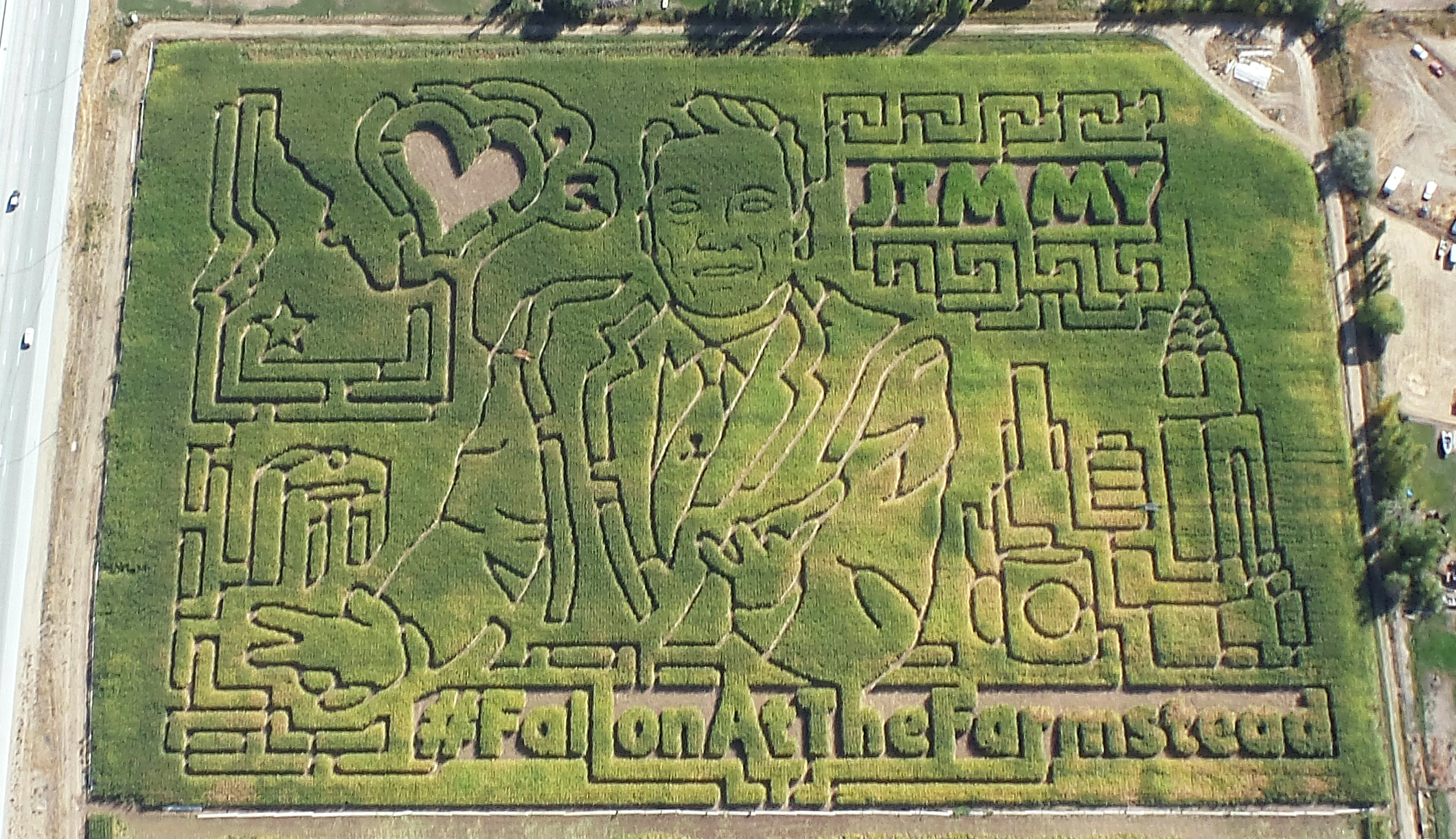 Throughout the year, the 400-acre plot operates as a working farm, growing corn and wheat. From mid-September until late October, however, they open the gates to visitors looking to experience autumn at its finest; the Farmstead Festival offers hayrides, pumpkin picking, a petting zoo, a trick-or-treat parade and the famous corn maze.
To carve nearly a million corn stalks over 18 acres into a discernible maze, the Lowes stick to a streamlined process. After they've decided on the design—making sure it looks good from above for the completed aerial shots, but still works as a functional maze—Lowe draws it out on the computer and scales the design to the size of the field. Using that blueprint, they head out into the field and mark off where the pathways should be mowed. Though some farmers employ GPS-equipped tractors to follow the blueprint's designs, Jim prefers working by hand.
"We still like the old-fashioned method because we can make minor adjustments to create really precise corners," he said. "This year, we just wanted to do something fun with the maze. There's a lot of anxiety and angst in the world and plenty to be upset about, so we wanted to be able to focus on some lighthearted fun."
Halfway across the country in Sunderland, Mass., city visitors from as close as Amherst and as far as Boston come to visit Mike's Maze at Warner Farm. Since starting the maze in 2000, owner Mike Wissemann and his team have created increasingly detailed mazes each year, relying on a GPS-guided mower and a drone to assist in the mowing process. Past designs include a portrait of Salvador Dali, Andy Warhol's Campbell Soup Can and Alice in Wonderland.
As for The Farmstead, the property where Lowe creates his corn maze each year is currently in the process of redevelopment. The city of Meridian has continued to grow, making an 18-acre plot of land directly off the interstate too valuable to remain a strictly seasonal operation.
"Meridian, Idaho, is rapidly growing and it's the natural flow of things that the land will be repurposed for more intensive year-round use," Lowe said. But the Farmstead's fans shouldn't worry—Lowe isn't planning on closing down Idaho's longest running corn maze.
"We'll either move the corn maze to another part of our farm or to another leased property. It's about finding a balance: Having the right location and all of the right features at a price that makes sense for us."