TAMI Occupiers Move Over Down Under
02 March 2016 by John Salustri | 5 min read
THESE WALLS CAN TALK
"We're trying to create an environment where people can work creatively. Our office has a light, collaborative and airy feel, supporting a culture where people are free to think outside the square."
That could be a global tech giant's head of operations speaking, or the 20-something CFO of a tech startup in Manhattan's increasingly hot take on Silicon Valley. In fact, it's Sam Allen, CEO of Trumen Corp., a Sydney-based real estate development firm.
In function, Trumen is clearly not among the cadre of TAMI office occupiers, the tech, advertising, media and information tenants known for redefining office space for a new generation of users. But in spirit, the firm is right there in that mix, and Allen's small operation (there are nine full-timers) is typical of traditional occupiers looking to get a bit of what TAMI users have.
FIRST FUNCTION, THEN FORM
And what exactly is that? The definition is shaped by both function and style. In terms of the former, it's space no longer restricted to cubicles or private offices, but rather where open, collaborative, activity-based areas are being added to the mix of individual heads-down work spaces.
The world is changing significantly and quickly in terms of new office concepts.
"I haven't heard anybody refer to cubicles here for years," says Andrew Tracey, regional director of office services for CBRE in the Pacific region. "The world is changing significantly and quickly in terms of new office concepts."
Of course, this watershed change comes with trade-offs, such as the reduction of personal space. A generation ago, Tracey says, "there'd be one person per 20 square meters." Today the standard dictates "one person per 10 square meters, and it's moving to one person per eight in some of the professional services firms."
But it's space hardly missed, especially in the face of a growing cool factor, with TAMI and traditional tenants alike often opting for formerly obsolete spaces resurrected for modern application.
As a developer, Trumen specializes in that very market segment, adaptive re-use, in large part specifically for creative office occupiers. But as our opening quote implies, Allen is someone who walks the talk, and his outside-the-square operation is housed in a 200-year-old building, at onetime a girls' boarding school.
THE ALLURE OF SPACE
"We chose that building because it was very old and it wasn't your traditional commercial office," Allen tells Blueprint, presented by CBRE. "We're finding that there's a huge market for this sort of space, even on the part of more traditional businesses. And a large part of that appeal is that it helps them secure talented, young staff."
In what Tracey calls the battle for talent, even the formerly staid and stuffy halls of traditional law firms are donning war paint. He tells of one law client that's "attracting the next generation of workers with a vastly different environment than their competitors," and gauging their success by the number of first draft offer letters accepted by graduate students. Out, he says, are the mahogany walls and plush carpeting. In their place are exposed ceilings, services and polished concrete floors.
Throughout Sydney, he says, these "funky office spaces" are attracting not only law firms and out-of-the-square real estate developers, but also the forward-thinking likes of drink maker Red Bull, elevator manufacturer ThyssenKrupp and jewelry retailer Swarovski. Move over, app designers.
And not only are tenants willing to pay a premium for cool—as much as 10 to 15 percent above market for conventional spaces—but he adds that they lease faster. Plus, occupying cutting-edge space makes tenants "stickier," more willing to re-up at the end of their lease term.
YOU CAN'T FAKE FUNK
As both user and purveyor of creative spaces, Allen is adamant that creating that older vibe must be done right, and to him that means adaptive re-use. "You'll never get the same feel in a new building. There's something about an old asset. I've seen examples of the style replicated in modern commercial buildings. It's nice, but it's not authentic."
Besides, achieving that look is an expensive proposition in a sleek CBD high-rise. Developers are turning to older facilities for answers, either for the land beneath them or their ability to adapt. And while Trumen opted for a former girl's school, obsolete industrial is a prime target for rebirth.
But Allen adds that he's seen the approach fail in older assets as well. "You have to be really smart about how you position old buildings because you can get it wrong."
And you can also step out of regulatory bounds. There are various regulatory bodies throughout Australia limiting how much can be done to an obsolete industrial space. "If you can't build on top of it or demolish it, the only choice is renovation," Tracey says.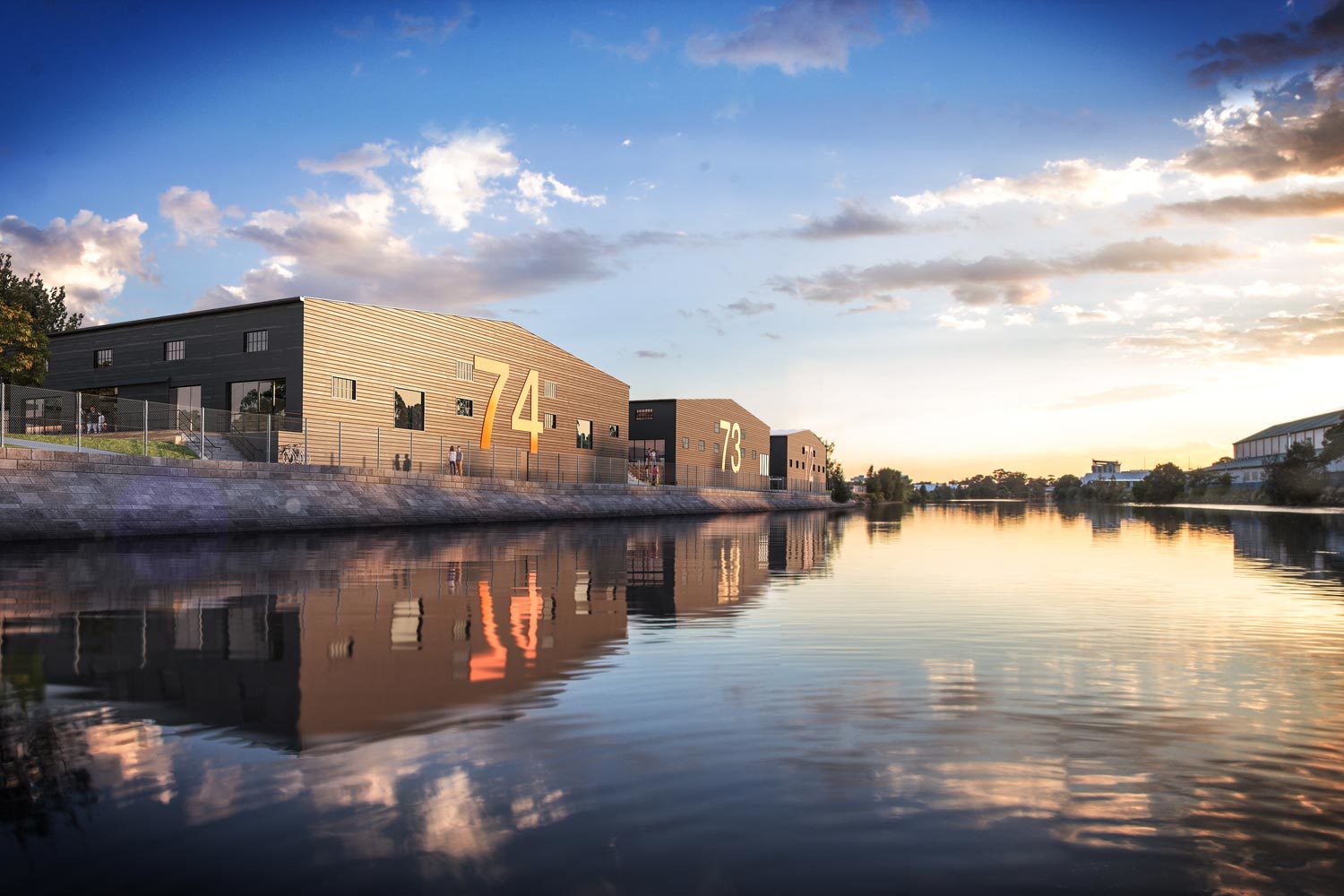 STOCK FLUCTUATIONS
"Australia's industrial landscape is undergoing a transformation," says CBRE managing director, South Sydney, Nathan Egan, "with traditional factory hubs becoming the focus of conversion activity as developers look to take advantage of prime real estate values."
Australia's industrial landscape is undergoing a transformation.
Particularly, he notes, the South Sydney submarket, once "industrial- and logistics-focused, is now a thrumming hub for creatives. The solid brick factories that dot South Sydney offer not only a strong structure to accommodate alternative uses, but their unique and historic charm are keenly sought after in both the residential and creative office markets."
Even obsolete industrial not tapped for office use is finding new life as upscale residential, Tracey explains. Of course, this dual gentrification nibbles away at the stock of available warehouse and factory space, putting the squeeze on potential industrial tenants.
In fact, there are "210,000 square meters [nearly 2.3 million square feet] of industrial stock in South Sydney alone that could be converted over the next five years," notes Alexander Tan, senior research analyst for CBRE. And, with less space to choose from, industrial tenants looking for space in South Sydney are being asked to dig a little deeper—by as much as 20 percent—over other regions.
"The recent refurbishment of the Woolstores in Alexandria is a prime example of a traditional warehouse space repositioned into an office-retail building," he continues. Woolstores, so named by its former use as a wool processing facility, is a Trumen conversion project.
Much like in Chicago, London or New York City, Tracey notes that the watershed changes taking place in office design and function dominate the new wave of thinking in Sydney, Brisbane and Melbourne. And even though other Australia markets, such as Perth or Adelaide, are slower to catch on (a function, he says, of supply and demand), it's only a matter of time.
Competition will drive the change, as will the need to be perceived as cutting edge, or at least current. And if all else fails, there's always the "gee-whiz" factor, as Trumen's Sam Allen reports: "People who come into our office love it. It's great to hear them say: 'Wow! Great space.'"
MORE FROM THESE WALLS CAN TALK: