Taipei 101: The "Greenest" of Skyscrapers
23 September 2016 by Emma Kantrowitz | 3 min read
THESE WALLS CAN TALK
The Taipei 101 skyscraper, once the tallest structure in the world, recently added another notable distinction in its short-but-accomplished history: it's now the world's "greenest" tower. The 1,667-foot supertall recently earned 90 points under LEED's new v4 certification, the highest score to date under the most updated green building standard. The skyscraper had previously achieved a Platinum rating under the program's Existing Buildings v3 certification in 2011, but decided to take the challenging step to achieve recertification under the newer, more stringent rating system.
"Taipei 101 is a proven leader in choosing to move forward to the newest version of the rating system, and in achieving Platinum certification again," says Christopher Davis, a member of the LEED consulting group within CBRE's Global Energy & Sustainability team. "They earned 90 points, which is the highest rating of any building to date in LEED v4. It's rare for a building to attain such a high level of points, in part because once you hit 80 points you already meet Platinum requirement, so they were very ambitious in pursuing 90."
LEED, which stands for Leadership in Energy and Environmental Design, is a third-party green building rating system designed by the U.S. Green Building Council. New and existing buildings can receive LEED Certified, Silver, Gold or Platinum ratings by earning points across different areas of sustainability. While there is a significant focus on energy efficiency and reducing greenhouse gas emissions, LEED for existing buildings takes a comprehensive approach to integrating environmental best practices into the way that buildings are maintained and operated.
Certified buildings are required to be recertified every five years, and the Taipei 101 building team—along with CBRE consultants—started the recertification process a full 18 months ahead, leaving themselves plenty of time to upgrade the building to the new LEED v4 standards. Tim Shen, head of sustainability for CBRE Asia, led the project.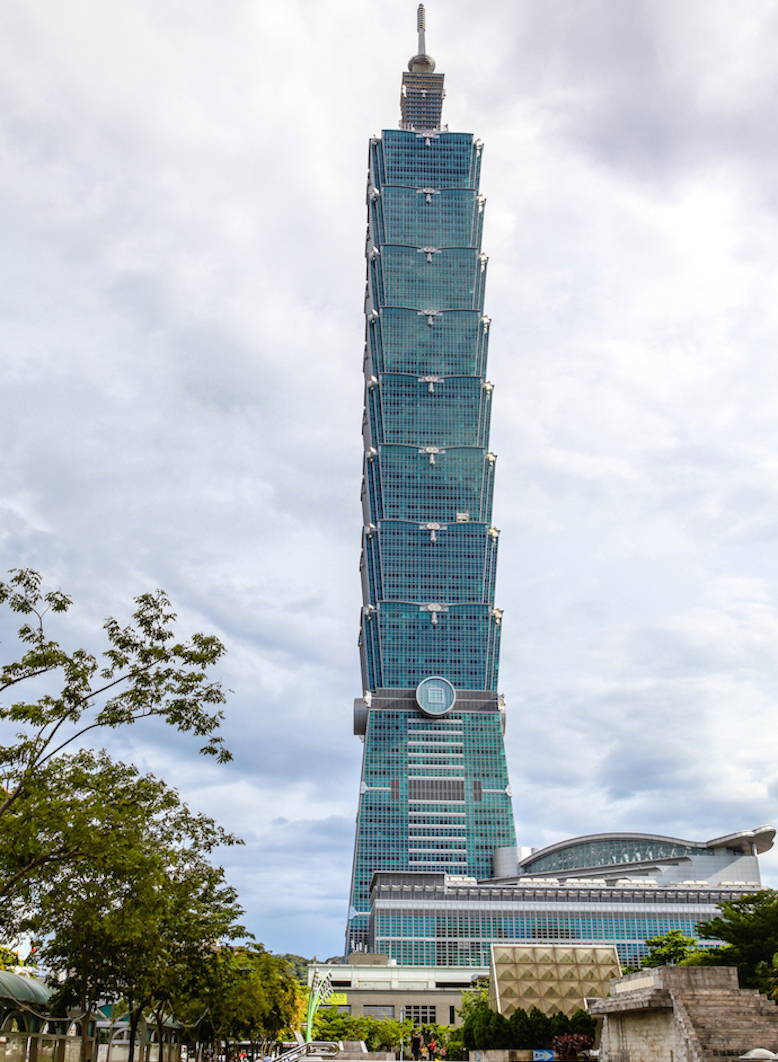 "LEED v4 has significantly raised the bar for existing buildings, such that a lot of things [Taipei 101] was doing that achieved points for the original certification no longer contributed to the new score. Many credits from LEED v4 were made into prerequisites, or combined into new credits with fewer available points. In addition to new credits bringing new aspects into LEED, the requirements of most old credits were made more difficult to achieve," Shen explains. "Even though the recertification process should be pretty straightforward in theory, this was almost like a new certification project because we had to review many aspects almost from first principals."
While there weren't many physical changes made to the actual building structure, many of the newly implemented changes relate to how the building handles maintenance and operation. The most fundamental change is the new demand response program with the building's local utility company, which now offers incentives for buildings that reduce energy demand during peak periods.
Though Taipei 101 is no longer the world's tallest building—the Burj Khalifa displaced it in 2009—it can now boast its status as greenest skyscraper on the globe.
"Right from the get go they hit the top level, and only a small number of buildings achieve Platinum; it's a much higher threshold," says Davis.
MORE FROM THESE WALLS CAN TALK: