How do you define pop-up retail? Is it the here-and-gone holiday store where mom and dad can buy little Waldo's Halloween costume, or is it Uniqlo's new test market location in your neighborhood?
Fact is, pop-ups are different things to different people. And the concept over the years has undergone a shapeshifting that intrigues not only consumers but also the marketing-savvy likes of Target and Kanye West.
That's right, Kanye West—superstar, Kardashian husband and headline maker—who, in a recent two-day pop-up in Manhattan's SoHo district, claims to have sold more than $1 million of his The Life of Pablo merchandise.
Today, pop-ups have moved well beyond their role as seasonal providers or a storeowner's temporary solution to a vacant and costly space. They're as likely to serve as the keystone in a celebrity's public relations blitz as they are to help a retailer kick the tires on a potential new location.
And, if you think that specialty retail (the insiders' label for the genre) is a strictly regional phenomenon, think again. Global retailers such as Lululemon Athletica are popping up with pop-ups in Asia and Europe as well as the U.S.
MOMENT OF PR ZEN
Kanye West "could have thrown all of his merchandise on his website," says Jesse Tron, vice president of communications for ICSC. That he didn't indicates the growing recognition of pop-ups for what he calls a moment of buzz.
It's about the power of physical retail and the buzz it could create.
"It speaks to the concept that physical retail is incredibly important," he tells Blueprint, presented by CBRE. "It's about the power of physical retail and the buzz it could create. Mr. West's pop-up was part store and part exhibit. It was an experience."
And it was one that costs less than a traditional ad campaign. While pop-up rental rates vary by locale and need, prices always trump those of a full-bodied advertising blitz or, for that matter, the cost of a 10-year lease. In general, says Tron, rents are prorated from a standard term to the duration of the pop-up.
It's also an experience other celebrities are embracing. Pet Shop Boys—the appropriately labeled electronic "pop" duo—used a recent two-day pop-up to market the launch of their Super album. User engagement is key, and the British band had on hand B&O Play headphones for browsers to sample the album. We'll get back to them in a minute.
And what could be more engaging than personal need? Pushing the envelope on interactivity, Charmin has periodically capitalized on Manhattan's infamous lack of public restrooms by placing pop-up privies in Times Square. One year, another Kardashian family member, Kim, was on hand to cut the ribbon.
Celebrity buzz or no, "Pop-ups basically allow you to do a 360 marketing/PR campaign with both interactive and digital components as well as traditional physical retail elements," says Tron, adding that part of the strategy is to create online buzz, "and hopefully make it go viral. You're looking to create a moment in time in a very fractured media and social media landscape and get as many eyeballs as you can." (It's not surprising then that all of the pop-ups mentioned so far are featured on YouTube.)
TESTING THE WATERS
And that's a goal that works equally well for the less sensational but more common market testing. "In most cases, those wouldn't be weekend-type pop-ups," Tron explains, "but probably weeks or months in duration. It gives them time to understand what the market will be over more than one day of hype."
"When Uniqlo was looking to open their flagship on Manhattan's Fifth Avenue, they did a pop-up for a week in Bryant Park," he continues. "They built mini-igloos, mini-stores within the park. So beyond exposure, it's a great way to test markets and brands."
No matter where in the world it plants its flag, when global sportswear firm Lululemon Athletica wants to gain local market acceptance, it opts not for the high visibility of a Bryant Park. Rather, it takes to the back streets.
"We have a showroom strategy in which we'll do temporary stores ahead of opening a new market," explains Booth Babcock, store development strategy director for Lululemon. "We won't do them right on the corner of Main and Main, as we would a traditional weekend pop-up or a permanent store."
For market testing, he's happy with secondary locations "on a second floor or tucked away somewhere so there's a little discovery to finding them for our new guests." This, of course, makes it very economical to hold a spot for as long as it takes to develop community awareness or, "if we just haven't found a location for a permanent store." Interactive for Lululemon means such attractions as spin or yoga classes or running clubs. "We try to make it fun and locally relevant."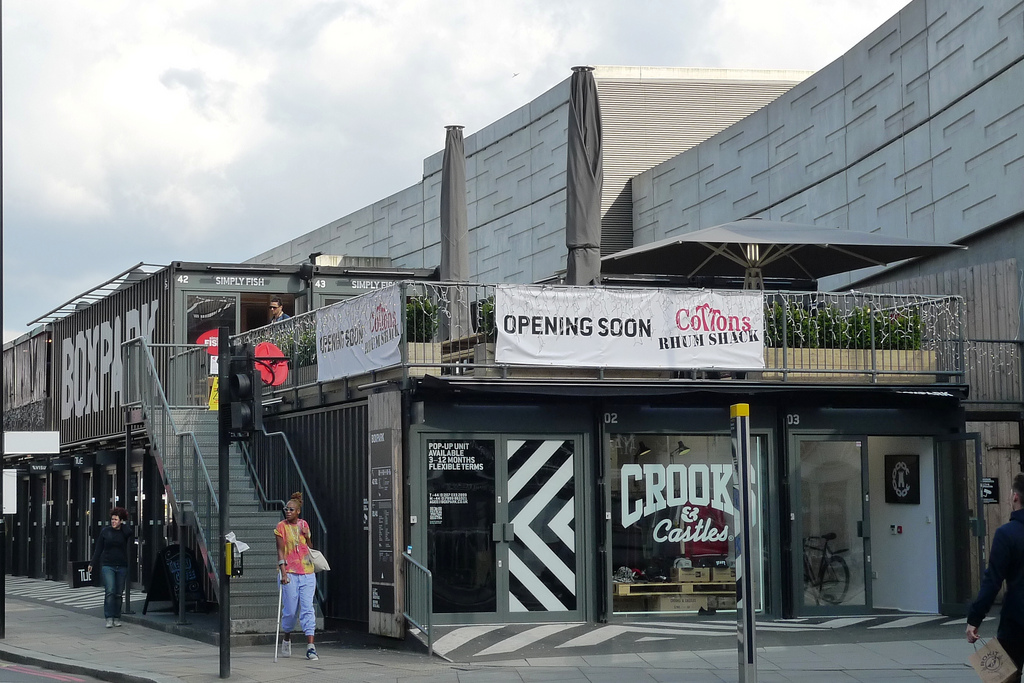 FUZZY NUMBERS
The pop-up phenomenon has been tagged as a $6 billion business. Melina Cordero, Americas head of retail research for CBRE, cranks the range up to $8 or $10 billion. But both she and Tron point out that the numbers are tricky, due in part to the very nature of pop-ups. "It includes all cart-and-kiosk business," says Tron, referring to the train of vendors you'll see on a typical Saturday at the mall.
Retailers can be so inventive in their approaches that, "It's hard to say what's a pop-up," Cordero explains. "When online eyeglass retailer Warby Parker wanted to go brick-and mortar, they used a school bus to do a road trip around the country. Is that a pop-up?"
"It's hard to say what's a pop-up."
Or is Story, the lower Manhattan boutique? Tron explains that the store is permanent, it's only the content that shifts. "They change out the store every couple of months with a whole new theme," he says, "and they often get partners, such as Target, which partnered with them for three months. Obviously their goal is not to create another store. Their goal is buzz."
You'll even see pop-ups within established stores, as Cordero says e-commerce site Etsy has tried with Macy's.
And when Pet Shop Boys marketed Super, their venue of choice was another permanent location in Shoreditch on London's East End. There, a joint venture of developers Hammerson and Ballymore and retail entrepreneur Roger Wade created Boxpark, which bills itself as the world's first pop-up mall, further clouding the definition.
"They took a bunch of shipping containers and created permanent space for retailers ranging from a local shoe designer to [a retailer like] Puma," says Cordero. "Even The Guardian newspaper had a branded cafe there. The spaces were semipermanent, but there were new retailers every day."
You also have to fold in the question of time. Babcock reports that a showroom in Hong Kong stayed open for three years ahead of a permanent launch. "Can you consider that a pop-up?" he asks. "It certainly serves the same purpose."
Clearly, as Cordero says, "Definitions are really muddied."
ROGUE RETAILING
Cordero says she originally saw pop-ups as a sort of rogue retailing, defying the conventions of the mall or strip center. Then, when she saw Boxpark emerge during her years in London, "that signaled the shift from rogue retail to institutionalization and formalization."
Today, not only at Boxpark but in fact throughout the global pop-up sector, "we have an interesting mix of indie and established retailers taking advantage of the opportunities pop-ups provide for exposure, public relations and marketing."
Housed in school buses, igloos or shipping containers, pop-ups are clearly limited only by the tenants' imagination. Whatever the use, the concept's growth from seasonal retailing to cutting-edge marketing tool is undeniable.
So what's next? "A lot of retailers are experimenting with more non-traditional channels as a way of reaching guests," says Babcock. "We want to be locally relevant and fun, and we want to be innovative, with new and creative ideas, whether they're traditional pop-ups or something we haven't thought of yet."
"Clearly, there's a lot of evolution taking place," concludes Cordero, which means we'll just have to wait and see what pops up.
MORE FROM PLAY OF THE LAND: