LA's Walkability Is Improving, One Step at a Time
28 September 2017 by Karla Pope | 4 min read
HYPERLOCAL
Jane Jacobs is famously quoted as saying, "Not TV or illegal drugs but the automobile has been the chief destroyer of American communities." Whether true or not, Los Angeles has become a global leader in car culture and, for decades, the city's walkability paid the price.
As people start to move more towards city centers, they seek the allure of car-free, pedestrian-friendly neighborhoods. And the service they use to measure walkability? Walk Score, an online tool that measures the walkability of any address in the U.S., Canada and Australia.
LA is beautifully unique in the different ways you can get around, though it's a common misconception that you can't.
According to Walk Score's website, the company ranks an area's walkability based on its proximity to nearby amenities. Through a patented system, it analyzes hundreds of walking routes, and points are awarded based on the walking distance to amenities in each category.
So, where does LA—a city known for its never-ending traffic—fall on the scale? Many would be surprised to learn that the City of Angels' downtown area has an impressive walkability score of 95, and the city as a whole ranks 18th on Walk Score's list of the 35 most walkable cities in America.
"LA is beautifully unique in the different ways you can get around, though it's a common misconception that you can't," says David Freitag, associate at CBRE, Los Angeles. "[The city's walkability] is a lot better than you would think, and it's improving rapidly."
Unlike cities such as New York and San Francisco, where restaurants, retailers and workplaces are within walking distance, Los Angeles residents haven't typically had those luxuries—until now.

Infrastructure Renaissance
With growing infrastructure and transportation system improvements, the city is poised to become a place where pedestrians (and public transit users) can enjoy an improved quality of life. Right now, LA has several major local transit projects underway, including one that will make it possible to hop on a light rail train from the Los Angeles International Airport (LAX) to other parts of the city with ease.
"LA is spending billions of dollars to continually improve transit and the Metro line," says Freitag. "There's the Crenshaw/LAX line that's going to connect our system to the LAX airport, which will be the first time that's happened. Then they're reinforcing the rail system, which services downtown LA—a $1.8 billion project called the Regional Connector. A couple of years ago we were good, but now we're really doubling down in LA on public transportation."
The Value of Walkability  
It's a no-brainer that a city's walkability is contingent upon the residents' ability to get around. Public transportation plays a key role, and employers are taking notice, which, in turn, makes it a priority for commercial property developers. "Five years ago, we didn't get asked about walkability, but now every brochure has a walkability score on it," says Matt Carlson, senior vice president at CBRE, San Diego.
Increasingly, people are seeking employment that offers a work-life balance. Translation: They want to be closer to their places of business and drastically cut down their commute times. "People want to live, work and play within proximity of one another," Carlson notes on the rise of Southern California's walkability. "People are developing ways for folks to get around outside of their cars, because they don't want to sit in traffic for an hour and a half to go ten miles."
Employers want to situate themselves close enough to where their employees live so that they can enhance an environment that fulfills live, work and play.
Because of individuals' increased interest in LA's walkability, Freitag has started to include Walk Score on surveys for clients, which include law firms, tech and media companies. "When they're looking at different submarkets to move their business to, it's that quick snapshot," he says. "I like blending the Walk Score, Bike Score and Transit Score together because they're all equally important for companies to figure out the access to local amenities, and more importantly, how their employees are going to get to and from work every day."
While there is a big focus on health and wellness from an employer's perspective when it comes to walkability, that's not the only concern. "Employers want to situate themselves close enough to where their employees live so that they can enhance an environment that fulfills live, work and play," says Freitag. "It's vitally important for a company, when considering an office space, to vet out how the building sits within the context of restaurants, public transportation, major residential developments, gyms and malls. It plays a huge role."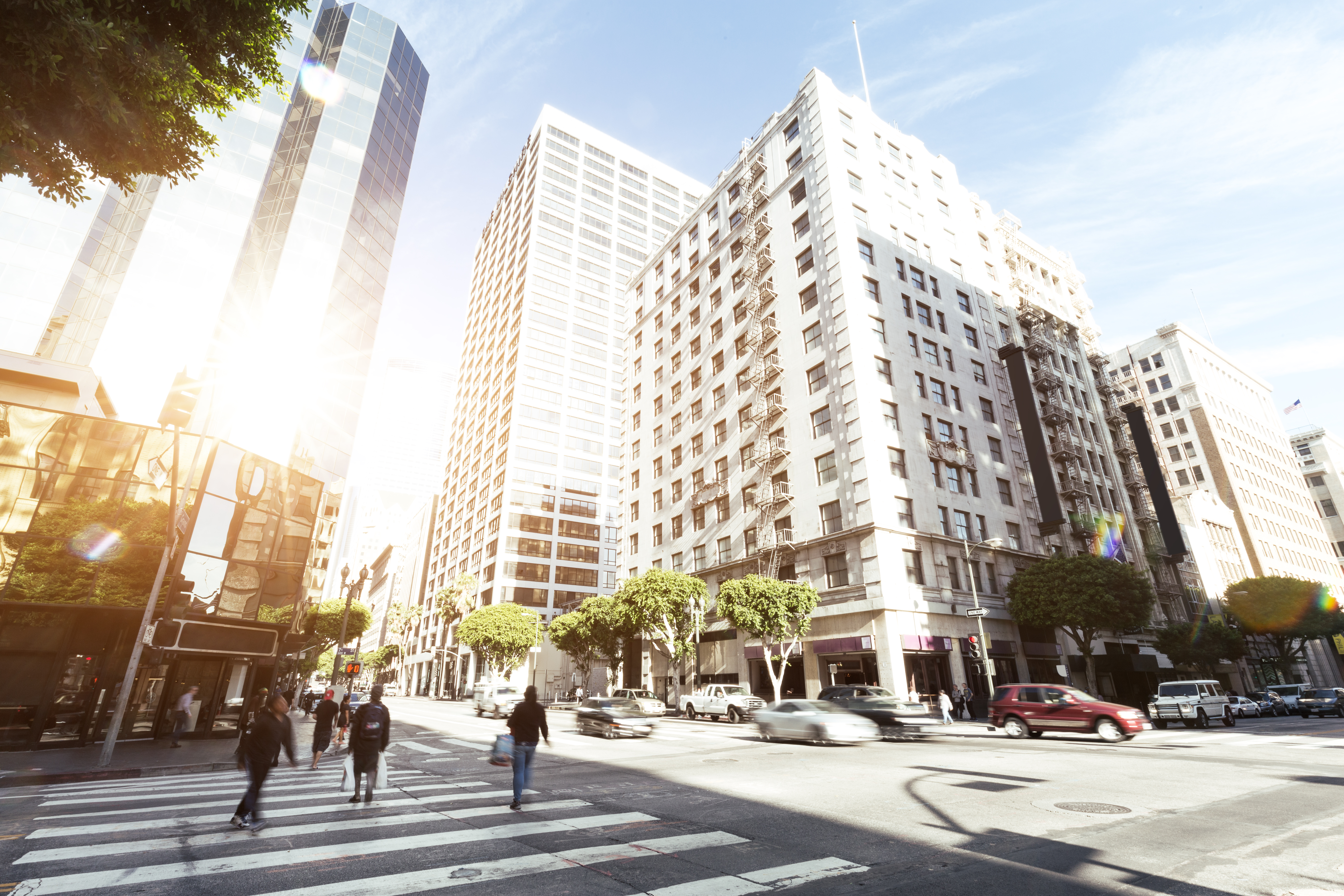 Walking into the Future
Walk Score delivers helpful insights pertaining to LA's walkability, but it's not the only tool CBRE uses to stay ahead of the game. "One tool in our tech stack is called Dimension, which allows us to layer over demographics, employee drive times, popular amenities and public transportation. All of those numbers that Walk Score is crunching are utilized in what we do and how we strategize and guide our clients," says Freitag.
Southern California may be synonymous with cars and traffic congestion, but the nation's second largest metropolis is well on its way to becoming a preferred destination that goes beyond its beautiful blue skies and pristine beaches.
With booming construction and impending transportation plans, LA's walkability and overall future looks bright.
"The next five years, in my mind, are going to be some of the most exciting times for LA," Freitag says.