Investing in Paradise: The Attraction of Honolulu
08 July 2016 by Daniel Rosen | 3 min read
HYPERLOCAL
In the eyes of tourists and Hawaiians alike, Honolulu has all the trappings of a paradise city. In addition to Waikiki Beach and Iolani Palace, this state capital has one of the strongest local economies in the United States. It's extremely popular with tourists from Asia and the mainland U.S. Unemployment is low, wages are growing, and more jobs, especially in retail, are being added to the market.
"When the world contemplates Hawaii, palms trees and mai tais are usually top of mind," says Amelia Lim, vice president of valuation and advisory services for CBRE in Honolulu. "However, we have a history of being the repository of significant capital from Asia. We are always in the top five lodging markets in the U.S. in terms of performance."
Indeed, while those tourists visiting Hawaii are coming for the mai tais, they're also spending a lot of money. Tourists visiting the state spent more than $15 billion in 2015, according to the Hawaii Tourism Authority, with lodging and retail among the top beneficiaries.
At the same time, Honolulu has been experiencing an urbanization boom. More development projects are underway, and high-end retail is performing well with tourists with money to burn.
The International Appeal of Hawaii
Because of Hawaii's unique geographic location—practically equidistant from Asia and the West Coast of North America—tourism is driven from both sides of the world.
Andrew Starn, first vice president of advisory and transaction services at CBRE in Honolulu, attributes the strength of the market to this diversity of visitors. "The Waikiki market is so strong because it is so diverse. While a majority of tourists come from the United States, there are also hundreds of thousands of visitors from Japan, Canada, Australia, New Zealand, South Korea, China and Europe that come every year," Starn says. "Having such significant domestic U.S. and international visitor markets makes it extremely resilient."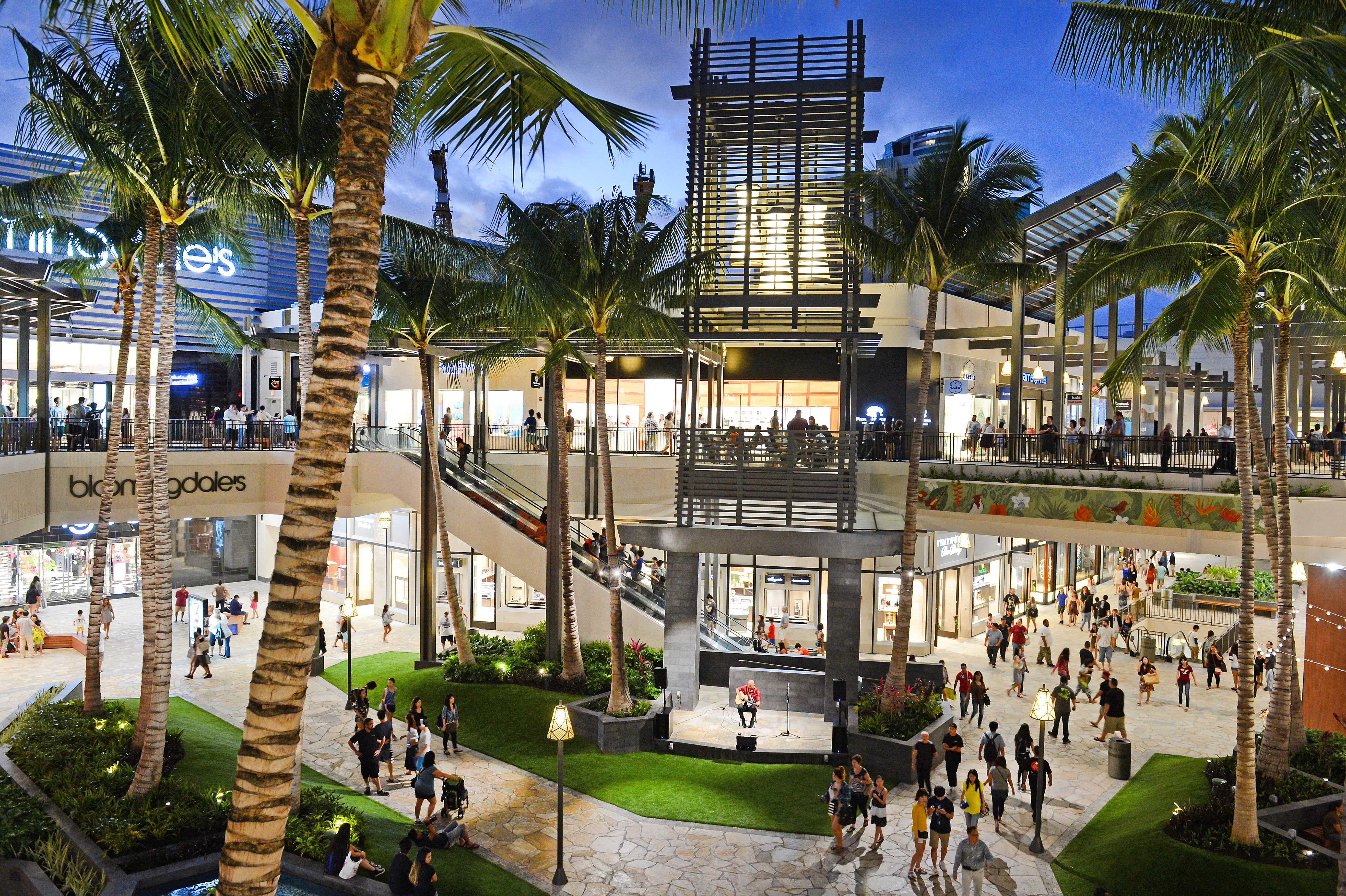 ALOHA TO THE ALA MOANA CENTER'S EWA WING
Upon opening in 2015, the newly built Ewa Wing at the Ala Moana Center added nearly 660,000 square feet of retail space to one of the largest malls in America. It added 37 new retail stores and restaurants, including The North Face, Magnolia Bakery and Zara. Bloomingdale's, the biggest tenant in the Ewa Wing, has a 167,000-square-foot space.
The Waikiki market is so strong because it is so diverse.
When it opens in Waikiki in August 2016, the International Market Place will boast 345,000 square feet of gross leasable space in a submarket that receives over 5 million tourists each year. High-end retailer Saks Fifth Avenue, the International Market Place's anchor tenant, will be taking 80,000 square feet of space. Its other big tenant, the Grand Lanai, will offer alfresco dining at nine gourmet restaurants (including StripSteak by Michael Mina and Yauatcha by Hakkasan, among others).
Both of these developments should "boost the demand and activity in Honolulu's urban core," according to a CBRE Research analysis.
"These landlords have been very competitive for tenants, and are expected to be well stabilized in 12 to 24 months," adds Starn.
INVESTORS ARE COMING
Nationwide, tourism spending continues to rise. Real spending on travel and tourism increased by 5.2 percent in the first quarter of 2016, according to the U.S. Department of Commerce's Bureau of Economic Analysis.
As tourism ramps up, so, too, does outside investment in Hawaii's hotel market. Last year, the Maile Sky Court, a 523-room resort in Honolulu, sold to Clearview Hotel Capital LLC for $103 million. Elsewhere in Hawaii, Asian investors have snapped up other notable hotels and hotel developments.
In 2015, Korean investment firm Mirae Asset Global Investments purchased the Fairmont Orchid on the Kohala Coast of Hawaii for $225 million. That same year, China Oceanwide Holdings Group bought two beachfront parcels in Oahu with an eye towards developing two uber-luxury-branded resorts, adding 400 traditional hotel rooms and 400 residences to the Ko Olina resort.
GOING FORWARD
While the luxury retail market has slowed globally as a result of shakiness in China and Russia, there is opportunity for market leaders to shine in the Aloha State. "I see specific retailers in each category that are uniquely connecting with their customers and bucking an overall placid market with expansion because they are truly resonating with their customers," says Starn.
This helps pave the way for a strong future for Honolulu, its retail and its overall real estate landscape.
Says Lim: "I think Hawaii and Honolulu will increasingly, at least for the foreseeable future, be recognized by Asia as a highly desirable investment location and as a prime destination for visitation."