How Urban Design Impacts Happiness
08 June 2017 by Emma Kantrowitz | 4 min read
THESE WALLS CAN TALK
When you walk through a city, does it make you feel happy? That's the question author and urbanist Charles Montgomery set out to answer while researching his book, Happy City: Transforming Our Lives Through Urban Design. Through various experiments and urban labs, Montgomery discovered that, yes, walking through certain parts of a city can indeed spark joy. But that discovery led to another, more impactful question: How can cities foster happiness through urban design?
The way cities are designed can impact people's feelings and behaviors.
"When Charles was on the Happy City book tour, sharing the insights and evidence, people were really excited about the ideas," says Omar Dominguez, director of operations and sustainability at the urban research and design organization Happy City. "Happy City as an organization emerged to take the evidence from the book and use it as a way to understand how urban environments can be adapted and modified to maximize public happiness and well-being."
Since the book's release in 2013, the eponymous organization has conducted around two to three experiments and urban labs each year, all in an effort to determine what factors of an urban environment contribute to human health, happiness and well-being.
"We're one of the few urban design firms that have a leg in the research side and in the implementation side," explains Houssam Elokda, project and research lead at Happy City. "We're not just a consulting firm where we talk to developers and governments and help them create these policies and designs to improve happiness, we also conduct and collect the research."
It's no surprise that the way cities are designed can impact people's feelings and behaviors. Think about walking down a dark alley—our sense of awareness is heightened, as is our instinct to escape to a safer place. Now think about walking along a wide sidewalk, framed by shops, restaurants and brightly-lit storefronts. Our defense mechanisms decrease, allowing us to stop, linger, shop and interact. Though these behavioral reactions might seem obvious, Happy City wanted to prove the hypothesis with tangible, quantifiable results.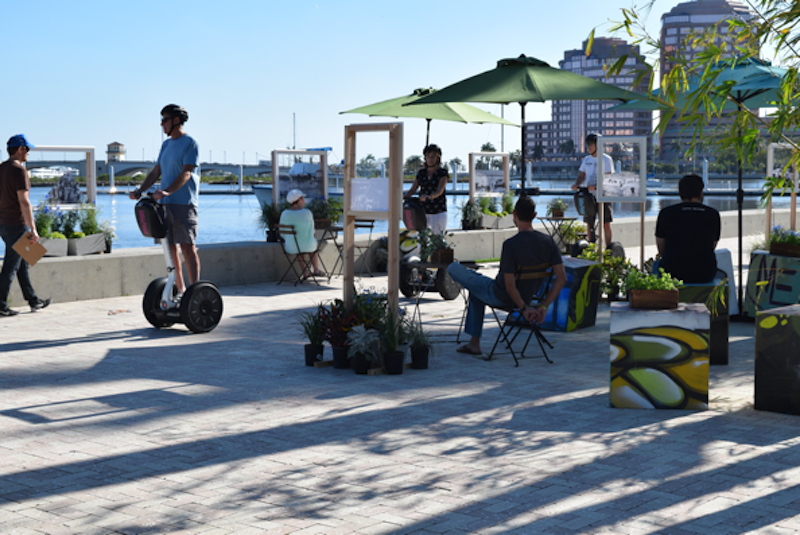 Around five years ago, the Happy City team took to Seattle to try and understand the social impact of different kinds of city environments. They placed volunteers posing as lost tourists in two different locations: in front of an active street edge with crowded shops, restaurants and plenty of opportunities for social interaction, and in front of a blank building facade. The team measured how many people offered help to the tourist, let the tourist use their cellphone and physically escorted the tourist to their destination. The results were unanimous.
"The idea was to figure out how likely people were to stop and help the lost tourist. As it turns out, in the active environment people were approximately four times more likely to stop and offer help, they were more likely to hand over their cellphone and to even walk the tourist to their destination," says Dominguez. "We found that these active edges—more social environments—cause people to be significantly kinder. We can take this evidence and apply it to the way we design spaces."
Good design often pays for itself. It's not just an investment you make to make a company or developer look good, it's actually an investment you make in the community and its overall happiness.
The reactions from the blank building facade experiment were also unanimous: "No one would let the tourist use their phone at the blank wall. We think they thought the tourist was going to try to rob them or steal the phone," says Mitchell Reardon, project and experiments lead at Happy City.
Happy City's goal is to help cities, developers and community planners understand the science and research behind their experiments, so that they'll make happiness a priority in their plans. It can be as simple as incorporating community-oriented green space into a design (a park with benches, as opposed to perfectly manicured lawns), or as dynamic as getting the local residents involved with a project (research suggests that when people are involved in a public place's creation, they're more likely to stay present in its upkeep). The organization wants urban happiness initiatives to be integrated into design plans, just as sustainability initiatives are.
"Years ago, developers weren't interested in investing in green materials or technologies; now it's the standard in new developments because it commands more value. Today we're seeing the same thing with well-being initiatives," says Elokda. "Good design often pays for itself. It's not just an investment you make to make a company or developer look good, it's actually an investment you make in the community and its overall happiness."
MORE FROM THESE WALLS CAN TALK: