To paraphrase a popular TV commercial: What's in your workplace? Is it a Mad Men-style bullpen with private offices rimming the exterior (whiskey neat, please)? Or is it an open and egalitarian environment without walls, where employees move easily and without paper from setting to setting, based on task?
Probably your answer is somewhere in between. But if your office design is caught in the 1960s or the decades after, you are behind the curve of best practices. In fact, "occupiers coming to the end of their lease term likely made decisions about their current work environment before the release of the first iPhone in 2007."
So says "Designing the Workplace Experience," the second installment in a three-part white-paper series entitled Better Business Performance Through Better Workplace Performance.
The attraction and retention of talent and better collaboration ranked higher than cost savings.
But even if you are a bit behind the curve, that in itself is no reason to take a sledge hammer to your space. "You don't change your workplace purely for the sake of change—or because others are doing it," advises Georgia Collins, who co-leads CBRE's Workplace practice in the U.S. "You change because you're trying to push your business in a new direction, to attract and retain talent, to better reach and serve your customers, to speed your time to market."
Or all of the above.
Corporate real estate executives responding to two separate CBRE surveys—one global and the other focused on the Americas—all said that collaboration, productivity and the improvement of business agility are all top drivers of workplace change. In fact, "the attraction and retention of talent and better collaboration ranked higher than cost savings," says the paper.
And if those factors dictate that it is indeed time to bring your office into the 21st century, where to start? Well, before you start fiddling with carpeting or wallpaper, change your perceptions.
"When we talk about designing a total workplace experience," says Lewis Beck, who leads CBRE's Workplace practice in EMEA, "we're talking about much more than space. We're focusing on all the attributes that impact how works gets done: where, when and how people focus, how employees develop relationships and build networks, how people connect across locations and time zones, and how well the environment helps them balance the personal and professional demands on their time."
Let's face it, we all spend most of our lives at work. It shouldn't be a place we hate to be or one that hampers our productivity. "Our work environments should be places that connect our personal and professional personas as well as support and improve our well-being," says Julie Whelan, who heads Americas occupier research for CBRE.
And you thought you could skate by with a new coat of paint.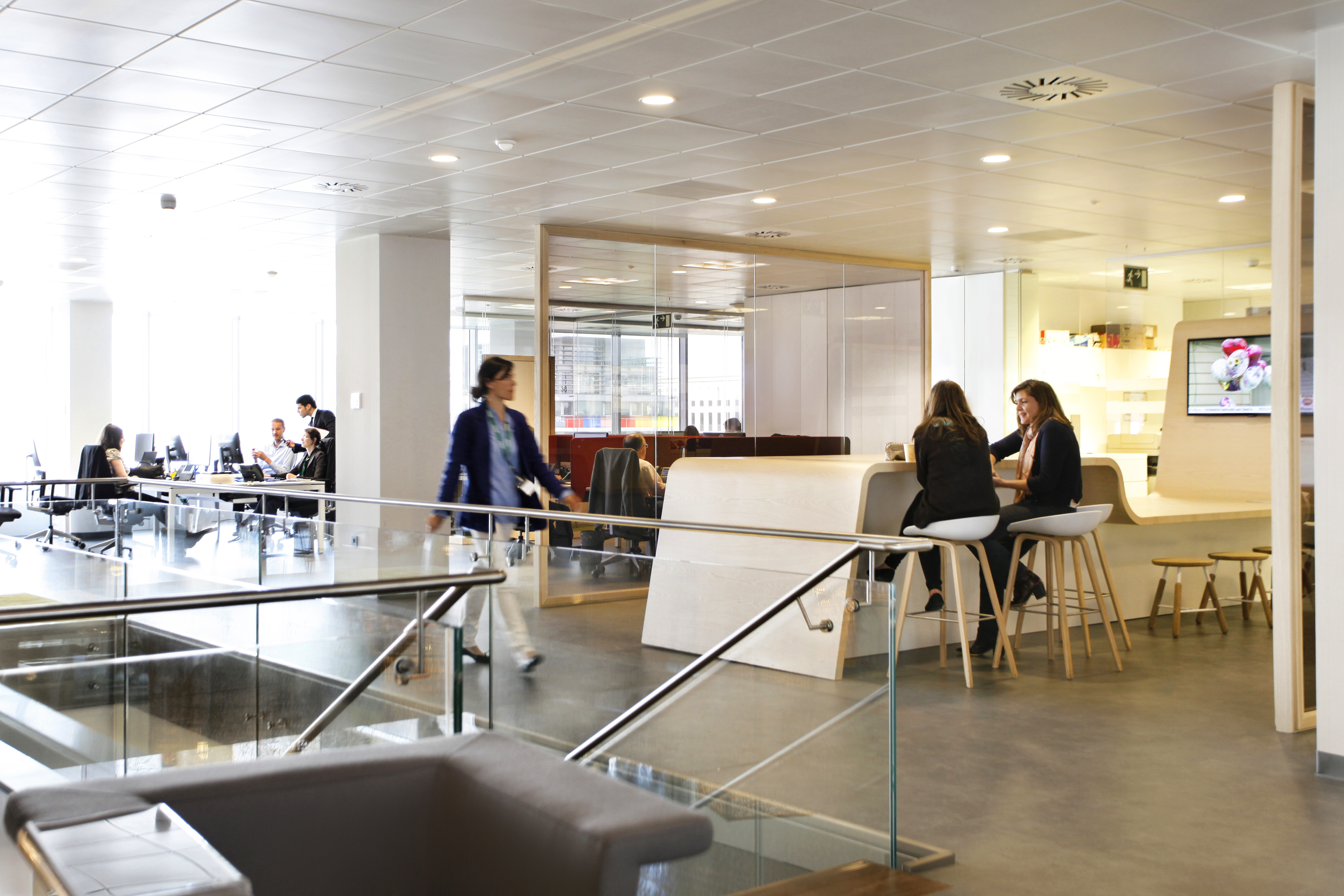 How To Optimize Your Workplace
You know that the office is more than just a place where people sit. But how do you go about fitting all of the above goals into your space? While we can't resolve every issue of connectivity or collaboration here, the paper suggests a four-step process as a guideline:
First, know your people and their needs. "As more organizations begin to track performance measures such as engagement, social networks and employee happiness," the paper explains, "corporate real estate leaders are being asked to develop solutions to improve culture and connectivity, well-being and flexibility in the workplace."
And by the way, beware the trap of thinking these are millennial concerns only. The paper cites a few sources—including internal CBRE research—asserting that "generational preferences vary minimally."
Next, see your office as more than a standalone operation. "As technology increases our ability to work from anywhere," the paper says, "many organizations are embracing the idea that the office is just one in a network of places where work can be done effectively."
Still, the office can be, after all, the epicenter of relationships and collaboration—if you do it up right.
Lenny Beaudoin, co-leader of CBRE's Workplace practice in the U.S., says, "Even when employees have choices in where they work, they will come to the office more, not less, if you make the office the most effective place to connect with others and get their work done."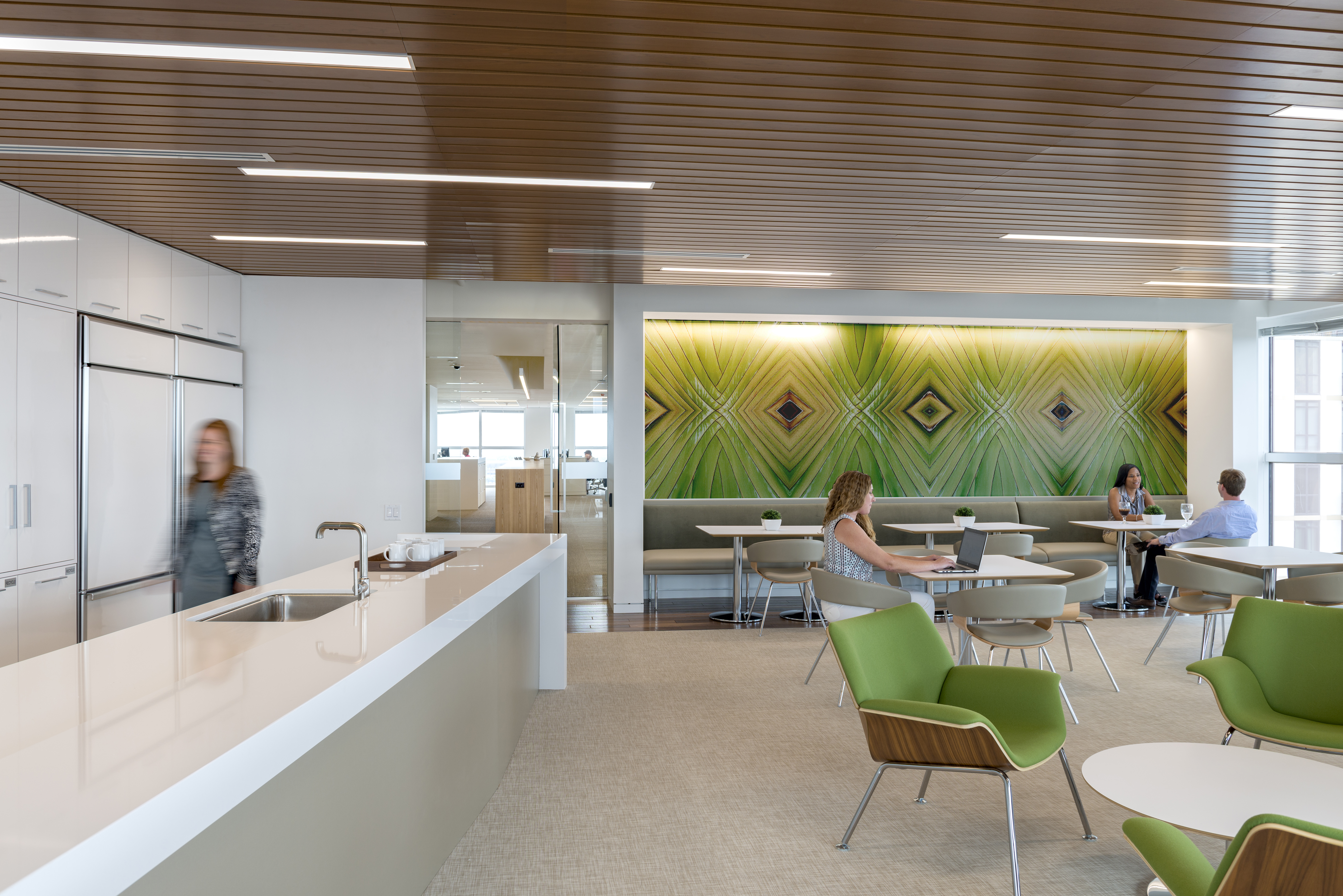 Step three is addressing your people's functional needs. That might sound obvious, but "a workplace has to meet your people's basic functional demands before any higher-order benefits can be achieved," the paper explains. "Many organizations jump to implementing an all open-plan environment in an attempt to foster communication but fail to meet the need for focus." Too often, such a plan actually fails at both.
Still, the office can be, after all, the epicenter of relationships and collaboration—if you do it up right.
Naturally, part of the function discussion has to focus on the elusive question of productivity in the white-collar workplace. Corporate decision-makers have to keep in mind that, "There are any number of things that actually steal productivity from employees," according to Karen Ellzey, executive managing director of Global Workplace Solutions for CBRE. "How much time do employees spend commuting? How long does it take them to resolve a technology issue? How quickly can employees find a place to work in a free-address workplace? How readily available are conference rooms? Does the AV work?"
Good questions all, and if we only "put as much effort into removing known barriers to productivity as we do trying to measure it," she says, "we begin to find real, tangible opportunities."
Finally, "design for delight." The workplace should be an extension of culture and brand, a point of differentiation from your competition. And we're talking about more than posters or your logo on the wall. "Rather, by more intrinsically reflecting what you value through design, services and policies," says Beaudoin, "you create an environment that becomes a catalyst for the culture you want to encourage."
There is, after all, a three-way linkage among culture, brand and environment. Take the hot-button issue of work/life balance. CBRE itself tackled the issue when it re-visioned its own spaces in its Workplace360 program. In the program, as the paper relates, "a concierge's responsibilities go beyond the expected reception services to include support that tackles the real-life responsibilities of employees. This may range from managing groceries and dry-cleaning to arranging car detailing."
More than ever, the traditional rules of the workplace are going by the boards. Think of the dress codes of the past, which have adapted to a new degree of personal freedom and expression within the corporate environment. So too the workplace, which is adapting to the new and very personal business of what makes people feel expressive, comfortable, productive and engaged.
Or, as the white paper tells us: "When it comes to creating a comprehensive workplace experience, the key consideration is how an organization can drive the specific behaviors and connectivity that allow its greatest asset, its people, to thrive at work."
However you define what your workplaces look like, therein lies your challenge.