When restaurateur Danny Meyer first opened his flagship restaurant—Union Square Cafe—in New York City's Union Square in 1985, the neighborhood wasn't the thriving gastronomic hub it is today. It was an overlooked area housing a gritty public square and a smattering of residential and commercial lofts. Why, then, did Meyer decide to station his first foray into the restaurant world in the heart of the neighborhood? Because of the square's twice-weekly farmers market.
"I saw the Greenmarket, which back then was only two days a week, not the four days a week it is today. But when I was getting my cooking education in France and Italy, every morning started off with my going to the market. The Greenmarket was as close to that as anything I had seen, and it just made me feel right," Meyer told AdWeek.com. (The temporarily closed Union Square Cafe will reopen in a new location on 19th Street in October.)
In 1976, the Greenmarket was born as a way for upstate New York farmers to reach the masses of the city. Twice a week, farmers from as far away as Vermont would drive their wares down to the city for shoppers to peruse through produce they could never find at a major supermarket chain. Today, the Union Square market hosts 140 regional farmers and operates four days a week.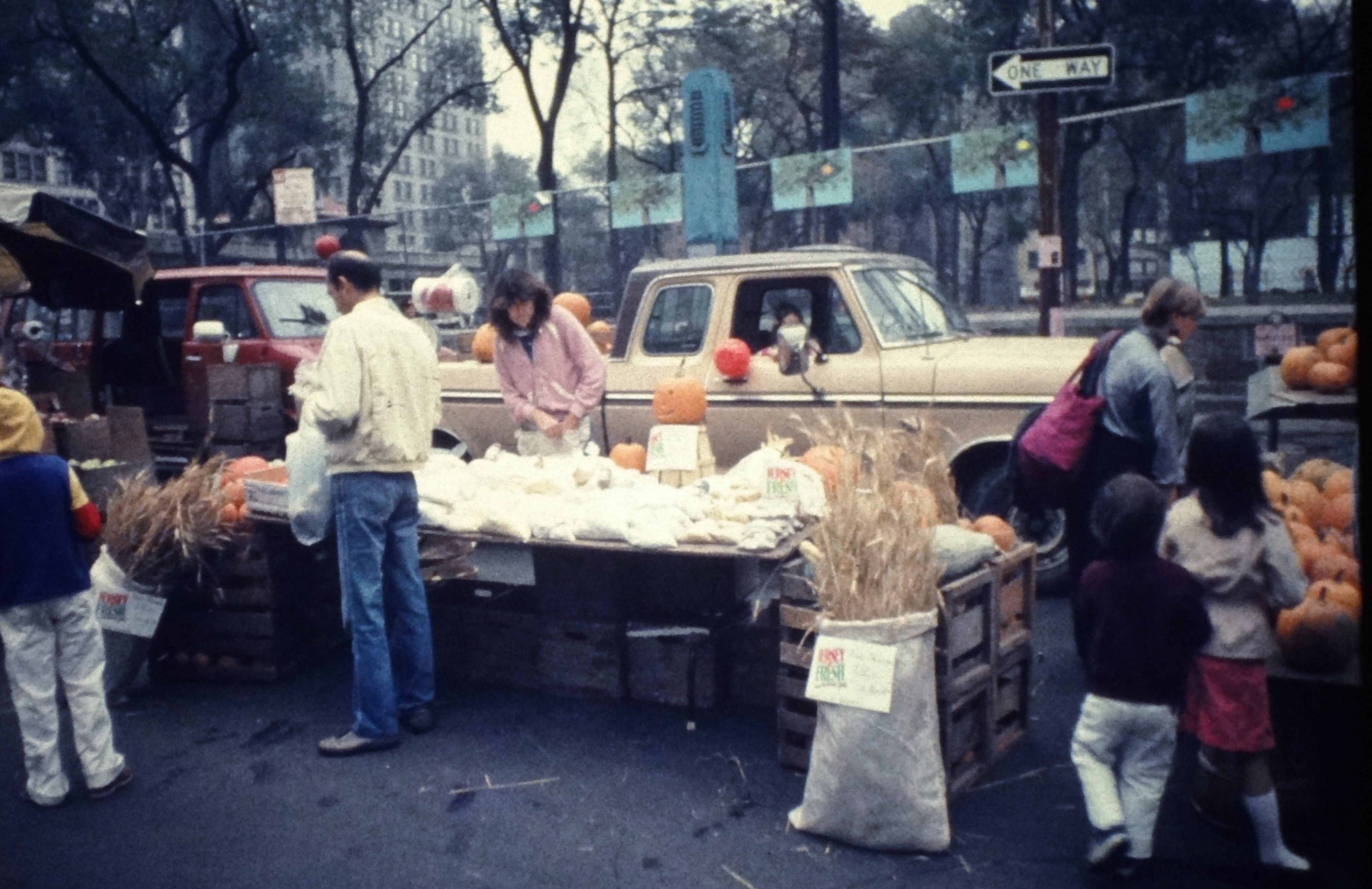 "When the Greenmarket first opened, it was July 17, 1976—my 22nd birthday," says Phil Hoeffner, farmer at Hoeffner Farms, based in Montgomery, N.Y., one of the original eight vendors at New York City's first-ever greenmarket on 59th street.
"In late spring, early summer of 1979, they moved us down to the larger space in Union Square, and it was a mess. It was dirty … we'd have to get a broom to clean the street before we could even park our truck. But once people got wind of it, we had people coming from all over the city. Our farm has been there for 40 years, and Union Square is quite the place to be—I think the market had a lot to do with that."
Our farm has been there for 40 years, and Union Square is quite the place to be—I think the market had a lot to do with that.
And the Greenmarket had an unanticipated side effect: Aside from creating a fresh food haven for city residents, it revitalized Union Square. Now, the square is a crossroads of fresh produce, bustling restaurants and thriving businesses. And this side effect isn't specific to New York; in cities across the country and around the globe, farmers markets serve as a way to bring community and commerce back to rundown public spaces.
In 2014, a small group of Georgia farmers decided to open a market at The Carter Center in downtown Atlanta, an area where many residents have limited access to fresh produce, meats and dairy. In a city as sprawling as Atlanta, development patterns have created so many food deserts and low-access areas that most of the city's residents live over a mile from the nearest supermarket. That's where the Freedom Farmers Market comes in. The founding farmers specifically situated the market in an area that would be easily accessible by foot, bike, public bus or car to many of the area's lower-income residents. The market has already become a staple of the neighborhood: In 2015, it was closed for much of the winter; this year, it'll stay open year-round.
Detroit's Eastern Market has been around since the mid-1800s, when it was first started as a small farmers market. Today, the market encompasses 43 acres and is the largest historic public market in the country—but it's not stopping there. Its plan for expansion will allow more vendors to sell their wares, provide jobs for more Detroit residents and will help rebuild the surrounding area.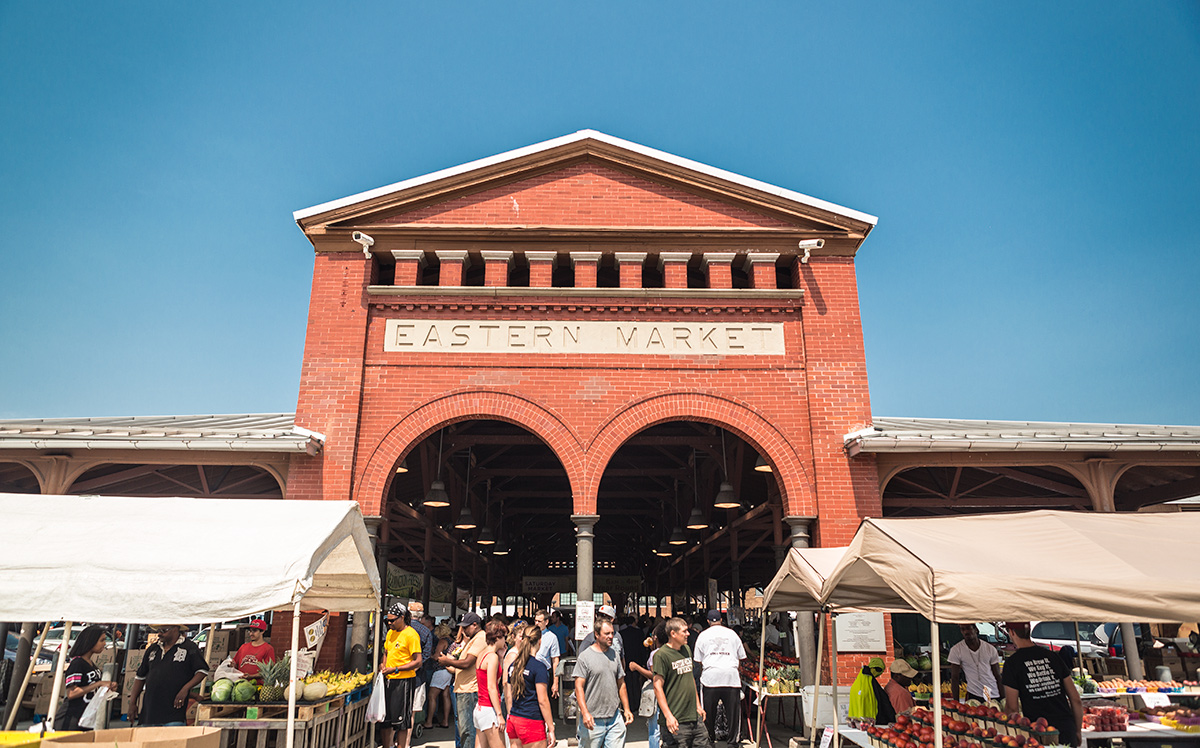 "The area around the market was a cemetery in 1891," says Dan Carmody, president of Eastern Market Corporation. "Since then, it has become a bustling food processing and distribution hub with nearly 2,000 jobs and 150 companies. Eastern Market is venerated as a bustling place that has persisted through good times and bad. It contributes to making Detroit healthier, wealthier and happier."
As for global cities, food and farmers markets have often been a way of life. "Market cities," as the Project for Public Spaces defines them, are urban areas that have "large central markets that act as hubs for the region and function as great multi-use destinations." Co-founder and executive vice president of the nonprofit, Steve Davies, says, "There's a lot of talk about food deserts today, but what many neighborhoods really have are place deserts. As a result, we're seeing a movement back to the idea of the market city, with markets acting as catalysts for creating centers in neighborhoods that have lost their sense of place."
Barcelona is a thriving example of a global market city, where there are around 43 public markets that serve just over 70 neighborhoods.
Earlier this month, New York Governor Andrew Cuomo announced that a $20 million, 125,000-square-foot permanent farmers market would be built in the Bronx. The city hopes that by putting New York state farmers in touch with the area, they'll be able to further revitalize the oft-forgotten city borough, just like the Greenmarket did for Union Square four decades ago.
Union Square Greenmarket is nestled in the bustle of New…
The market is open four days per week.
It features seasonal produce from more than 140 local farms.
It also offers flowers from the local farms.
Oak Grove Plantation is a family affair, and has been…
The Oak Grove booth is still a weekly fixture of…
Every farm tries to bring a different seasonal offering.
From leafy greens ...
to heirloom tomatoes ...
and much, much more.
MORE FROM PLAY OF THE LAND: