Gary Beban: The Heisman, Lombardi and Real Estate
25 October 2017 by Daniel Rosen
A VIEW FROM THE TOP
One is a global real estate services company; the other, the most lucrative sports league in the world. But CBRE and the NFL have more in common than you might think. The company has several former NFL players among its ranks, including a Heisman Trophy winner, a tight end, a defensive end, a hard-hitting safety and plenty of quarterbacks. While their playing days are well behind them, they have all found a home at CBRE, where their hard work, grit and love of their labor have helped them make an indelible mark on the real estate industry.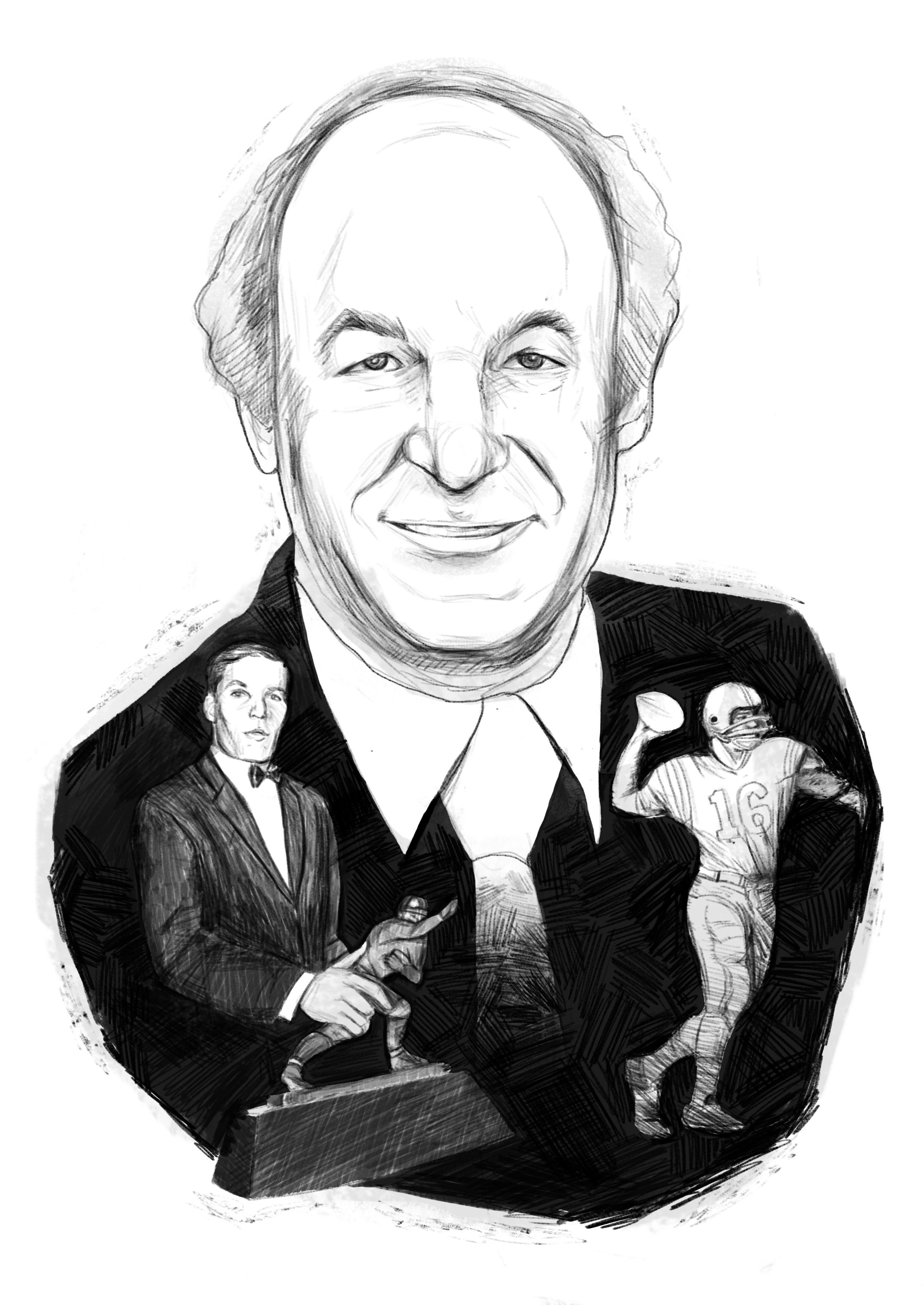 Football, as Vince Lombardi once said, is like life.
It requires hard work, determination and sacrifice—all qualities that Gary Beban, president of brokerage and corporate services for CBRE from 1988 to 1998, and now a senior executive managing director, attributes to his accomplished football and real estate careers.
As a quarterback, Beban carried UCLA to Rose Bowl glory, won the Heisman Trophy, and was drafted by the Washington Redskins. Then his career hit a wall. He barely played in the NFL, and after being cut by the Redskins, he found himself unemployed and with an uncertain future ahead of him.
But Beban soon found work at CBRE's downtown Los Angeles office, and within the next four decades he would open the company's Chicago office and become the namesake of a CBRE award (the Gary J. Beban Teamwork Award).
This month, Beban was honored by his alma mater on the 50 anniversary of his Heisman Trophy win. The celebrated quarterback and real estate executive is the first and only UCLA player to date to win the Heisman Trophy, and the school commemorated his achievement during UCLA Football's Homecoming game against the University of Oregon Ducks at Rose Bowl Stadium. The school also retired his No. 16 jersey, joining fellow UCLA Football legends Troy Aikman and Burr Baldwin.
It was the latest honor in a football and real estate career that remains unmatched. Beban, who spoke with Blueprint, presented by CBRE, in 2015, said he owed his work ethic and success in real estate to the lessons learned during his football career.
"It's about developing a strategy, paying attention to the details of the strategy, interacting with individuals with mutual respect (even when things don't go as planned), demanding full commitment and dedication, and then acknowledging the effort when it was put forth."
In this 2015 interview, Beban shared how his football experiences (both good and bad) helped him build a long, legendary career in commercial real estate.
Hometown
San Francisco, Bay Area, CA
School
University of California, Los Angeles (UCLA)
Awards
Heisman Trophy (1967), Maxwell Award (1967), Sporting News Player of the Year (1967), The Chic Harley Award (1967), The Glenn "Pop" Warner Memorial Trophy (1967), Inductee of the College Football Hall of Fame
NFL Team
Washington Redskins
Date Joined CBRE
January 1971
Number of awards bearing his name
One (The CBRE Gary J. Bean Teamwork Award)
The Moment I Knew I Could Play Quarterback
It would have been my sophomore year [in 1965]. We had opened up that season against Michigan State and we lost. We came back and played Penn State back at College Park and we won. After the first game against Michigan State I wasn't sure I could play the game. After Penn State I became more confident. Eventually we went on and had an outstanding year. We were 8-2-1, and then got a chance to play Michigan State in the Rose Bowl. We beat them 14-12. By the end of that sophomore season I was pretty confident I could play the game.
The Defining Game of My Football Career
Ironically it was a game in which we lost. It was my senior year and we played the University of Southern California (USC) in 1967. We were number one. They were number three. We were playing for, in essence, the national championship, the Rose Bowl. It was for the city bragging rights, which in Los Angeles was very large. There were two players on the field—O.J. [Simpson] on one side and myself on the other—that were the leading candidates for the Heisman Trophy. You can't play in too many more games, or any game, that had more on the table with two schools that were only 12-and-a-half miles apart. Even though we lost 20-21, it was the highlight of a career on the collegiate level. We rode a magic carpet for three years. We had gone to the Rose Bowl once, but we should have gone twice.
It was a wonderful ride.
Why I Went to the NFL
(Beban was drafted by the Washington Redskins in 1968.)
I think it was a natural extension of having played sports and football for a very long time that I wanted try playing on the professional level. It became a very important experience for me, because it was really the first time that I had not been successful. So when I went to my next career, which was with CBRE, there was a lot of motivation to make sure that I could be successful again on a different track. I was very fortunate to find the kind of working environment that the company had established at the time.
The Last Play of My Football Career
I think it was actually sitting on the bench in RFK stadium in early November, which would have been my last game. A few days later I was released, on the same day that my oldest son was born.
What I Learned From Vince Lombardi
There was one aspect of my pro career that was really important with respect to my real estate career. My second year with the Redskins, Vince Lombardi was the coach. He came out of retirement and coached the Redskins for the 1969 season.
He literally took a 1968 team that was 5-9 and, with the same players except one, he turned that team into 9-5. The experience of playing under him made me understand the meaning of leadership and coaching: It's about developing a strategy, paying attention to the details of the strategy, interacting with individuals with mutual respect (even when things don't go as planned), demanding full commitment and dedication, and then acknowledging the effort when it was put forth.
Even saying, 'Thank you.' It was invaluable, priceless.
How I Ended up at CBRE
When I was involuntarily terminated from my professional career, fortunately I had some teammates who had already joined CBRE. I had the opportunity to interview with them and was soon assigned as an industrial salesman in downtown LA back in January of 1971. It was a very fortunate circumstance for me, because I actually found a business that not only became a passion for me but contained a lot of the elements that had been a part of my life before: developing strategies, executing on those strategies, hard work and camaraderie.
My First Months on the Job
I actually had worked one off-season with CBRE. I was one of the original "data bankers." We used to go out and knock on doors and find out who was where and ask them about their leases—and this was for all of Los Angeles County. The team came back and said to the company, 'It will take us a century just to do Los Angeles, let alone the country, in this format.' That's when we actually converted our databank research to using the telephone as opposed to knocking on doors. But the door-knocking allowed me to better understand the business and my team, and I realized that the hard work that had been a part of my other life in the sports world was easily transferable to the real estate business.
The camaraderie aspect, particularly in the downtown Los Angeles office at that time in the industrial group, was extremely strong. It was a very open office. There was very little, if anything, that was held close to the chest. It was a teamwork collaboration way back then in the early 70s. I was very fortunate to fall into that environment.
On the Evolution of the Workspace
I think we are on the cusp of a new way of working.
For me, who qualifies as a dinosaur, the flexibility in these new open workspaces is just marvelous. We have an arrangement in Chicago, Workplace360, and in my 44 years at the company I would say that in my old office I maybe had a total of five clients come to visit. In the one year Workplace360 has been open, we've had thousands of clients come visit us just to see the space. We have clients who now hold meetings in our space just so they can experience it.
It's extremely stimulating, especially for those of us who used to work the old way. In a way, I keep saying that I'm experiencing how my grandchildren are going to work. At least I will be able to relate to it a little.
MORE FROM A VIEW FROM THE TOP: