Finding any kind of open space in Bangkok's Khlong Toei district is a tricky proposition. While there are few open and available spaces in Khlong Toei, one of the poorest areas in Bangkok, its jagged and asymmetrical dimensions have made it especially difficult for residents to play soccer—one of the most popular sports in Thailand.
While soccer is traditionally played on a rectangular field, AP Thailand PCL, a property developer, sensed an opportunity to try something different.
Space shapes and defines function.
The company was already looking at untended spaces in densely populated urban communities with the intention of transforming them into soccer fields. Khlong Toei was the perfect launching pad for this idea.
"We believe that spaces dictate how people live. Whether it's a single house, a town home or a condominium unit, space shapes and defines function," says Pattaraphurit Rungjaturapat, deputy chief corporate image officer of AP Thailand. Space, in other words, can change a person's life for the better.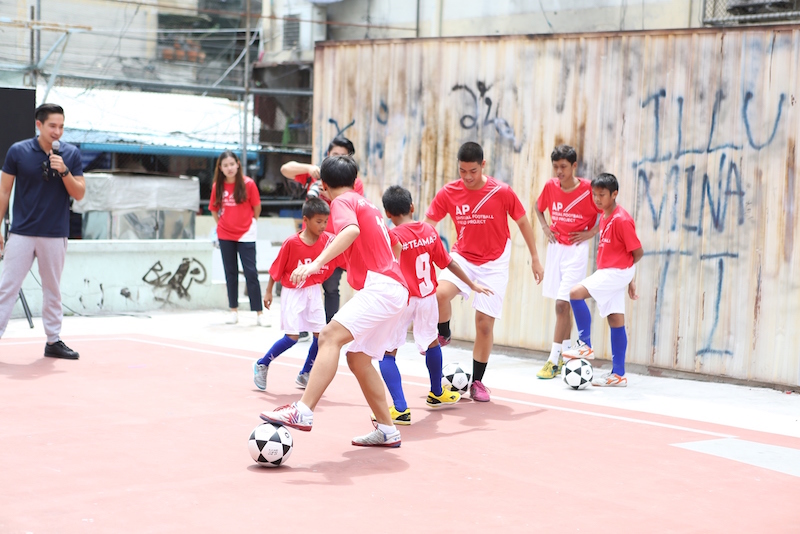 Working with CJ Worx, a digital agency, AP Thaliand launched the Unusual Football Field project, which took Khlong Toei's unused areas and transformed them into soccer fields. To conform to the irregular shapes of these available spaces, an L-shaped pitch and a zig-zag pitch were created.
"We tried to build a football field that makes the best use of the space and is also playable," says Rungjaturapat. The space has already been a hit with locals, especially with young men who live in the area, many of whom were the chief beneficiaries of the soccer pitches, according to Rungjaturapat.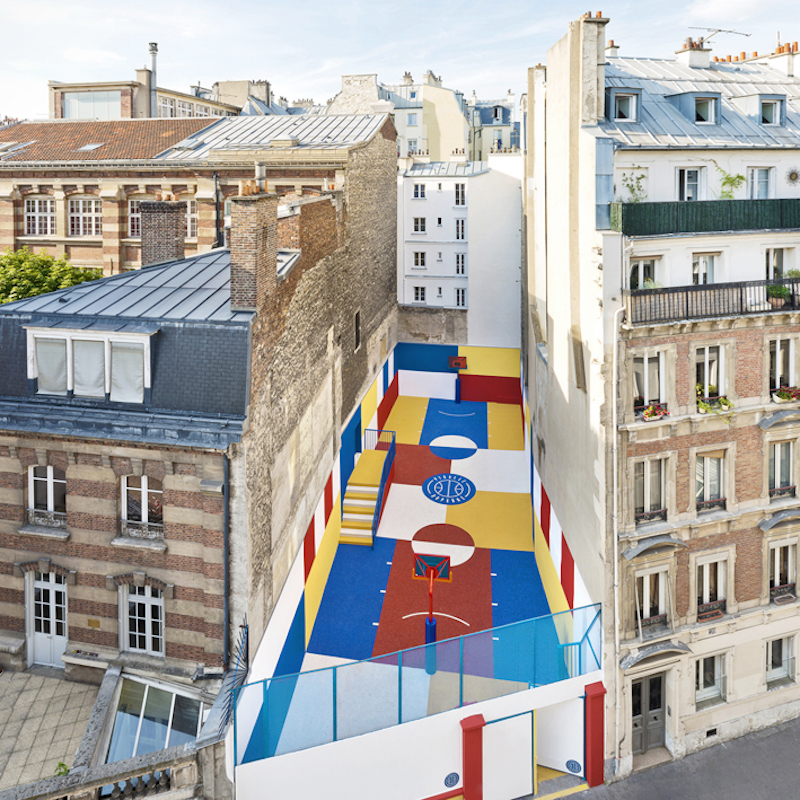 This is not the first sports ground that has been fashioned out of an existing open space with unusual dimensions. The Pigalle Duperré basketball court in the 9th arrondissement in Paris is situated between a row of buildings. Recently, design firm Ill-Studio and fashion designer brand Pigalle partnered up to give the basketball court a radical new color scheme. The multi-colored design of the court was inspired by the work of Russian artist Kazimir Malevich. Like the pitches created under the the Unusual Football Field project, the resulting open space offers an unusual amenity to the neighboring community. 
Seemingly unusable spaces wedged between buildings are not just limited to sports. In Warsaw, Poland, architect Jakub Szcęsny transformed a 4-foot-wide gap between two buildings (60 inches wide and 28 inches long, to be exact) into the Keret House, a writer's workshop. The space comes complete with a kitchen, bathroom, shower and even a bedroom large enough to fit a 35-inch-wide mattress.
In London, architect Charles Thomson of Studio 54 Architecture created a 900-square-foot home in a narrow space situated between three post-war, ex-council houses on one side and a Victorian terrace on the other in the city's Islington neighborhood. The vacant space had previously been used as a parking lot. Now, the New House on Elfort Road is a two-bedroom "urban cabin" that makes the most of its usable space. 
All of these developments prove that there is opportunity in the spaces wedged between buildings, no matter how small and seemingly unusable they may be. 
MORE FROM PLAY OF THE LAND: