Eight Ways Technology Is Revolutionizing Retail
09 February 2017 by Brian T. Horowitz | 6 min read
PLAY OF THE LAND
In-store traffic may be on the decline, but technology might be just what retailers need to keep customers engaged. New and exciting digital innovations are personalizing the consumer shopping experience, while also improving efficiency for businesses.
Imagine interacting with a robot to videoconference with a sales expert on the other side of the country, or using RFID-enabled smart mirrors to see what an outfit would look like in another color, without leaving the fitting room. Some of these technologies are already available in stores, and experts predict that many more will become ubiquitous in the next decade.
"The store is still incredibly important in the purchase journey," says Andrew Phipps, EMEA head of retail research at CBRE.
Here are eight technologies that could keep retail stores relevant.
1. Augmented and Virtual Reality
Of the latest innovations, augmented reality (AR) and virtual reality (VR) bring the most potential for retail, according to Phipps. These technologies are a natural fit for businesses, as customers are already comfortable using smartphones, VR glasses, goggles and headsets.
"VR and AR can really make a difference, not only in making the stores more interactive for customers, but also in allowing online retailers to create 'stores' in the virtual world," Phipps says.
AR, when linked to integrated big data, allows the retailer to see much more clearly what their customers want and how each of them interacts with the brand in a different way.
The Sandals Luxury Travel Store in London, for instance, can offer a virtual 360-degree view of a resort to provide customers with an interactive preview of its vacation packages.
AR, which combines virtual elements with real-world settings, can also allow stores to personalize experiences for shoppers using predictive analytics.
"AR, when linked to integrated big data, allows the retailer to see much more clearly what their customers want and how each of them interacts with the brand in a different way," Phipps says. "The ability to market to each customer as an individual isn't too far away. This is the perfect world for a retailer."

2. Robotics
Prominent on the trade show circuit over the last year, Softbank's Pepper robot serves as a next-generation in-store customer service rep. It provides guidance to customers on which size clothing they should choose, makes gestures with its hands, has responsive eyes and can detect the mood of a customer based on their tone of voice. SoftBank says Pepper's presence led to a 70 percent increase in foot traffic in its tech retail shop, B8ta, during a weeklong pilot in August 2016.
"I am fully convinced that the next killer application in service robotics will be an interactive robot, especially for the retail and hospitality industries," says Max Vallet, CEO and co-founder of Hease Robotics. The company's robot, Heasy, offers autonomous interactions with shoppers and helps direct them to areas around a store.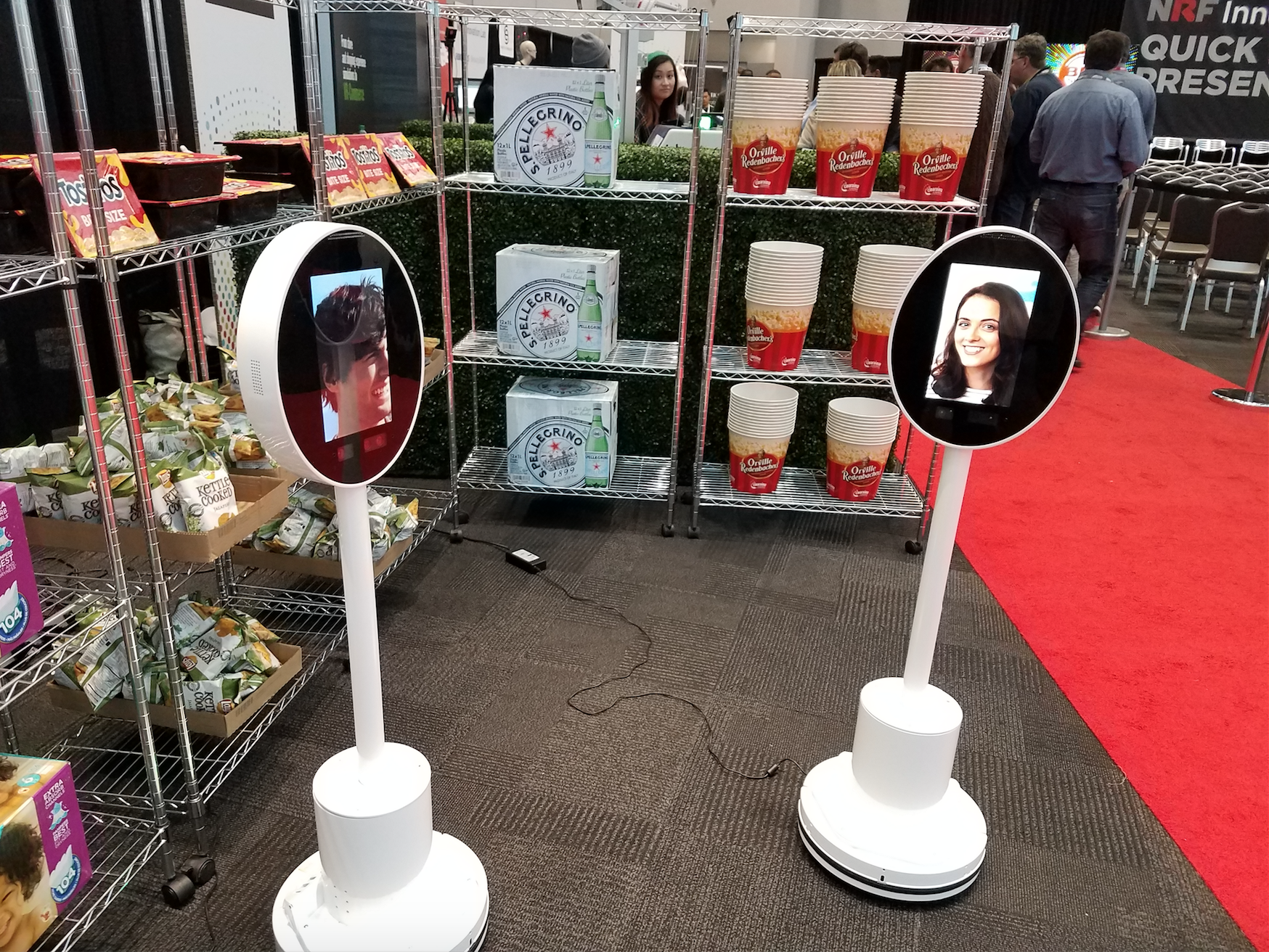 Along with progress in artificial intelligence (AI), companies such as Autonomous aren't just relying on autonomous functionality. The Autonomous Personal Robot adds virtual human interaction to the mix. The Personal Robot offers videoconferencing connections with remote store associates who specialize in specific products.
Duy Huynh, a co-founder of Autonomous, describes the Autonomous Personal Robot as a teleportation device. "It'll help people to work from anywhere," Huynh says.
The Personal Robot provides additional sales resources when stores are busy and enables associates to cater to customers from different cities via teleconference. Associates control the robot remotely through hot buttons on a desktop app.
"After a few hours, when it's slow, you can ship [the associates] back to where they were," he says.
Popular retailers like Sephora and Tokyo's Mitsukoshi department store have also been using robotics in their stores.

3. AI software
Retailers such as Sunglass Hut, Sketchers and Shoes.com are using artificial intelligence and deep learning from a company called Sentient Technologies to make decisions more quickly.
"Sentient Aware, a visual personalization product, uses deep learning to understand product catalogs," says Jonathan Epstein, chief marketing officer for Sentient. "That might be shoes, dresses, pants, lamps, rugs or furniture."
The software records what images a user clicks on so it can learn about the person's shopping preferences. Retailers are "using it to create new ways of merchandising their products for recommendations and for search enhancement," Epstein says.

4. RFID and IoT Connectivity
Brick-and-mortar stores around the world are piggybacking on the Internet of Things (IoT) trend, which allows devices around a store to communicate with each other. For example, retailers are using radio-frequency identification (RFID) to identify, track and manage inventory. Technology such as RAIN lets stores track inventory results and boost item availability. Stores like Rebecca Minkoff are already incorporating RFID into smart dressing rooms.
Zebra Technologies offers SmartSense sensor grip technology to sense and record the location of merchandise, associates and shoppers. By using in-store video, mobile device signals and RFID-tagged merchandise, SmartSense helps retailers understand where customers are moving in their stores.


5. Digital signage
By collecting location-based data from customer smartphones, stores can update digital signs with promotions and popular items. Companies such as Stratacache allow their signs to be programmed based on the preferences of customers that are nearby.
Digital signs by companies like Solchroma Technologies aim to provide an alternative to LED with sunlight-readable technology. The low-power ambient lighting provides more placement options and can include six to eight ads on a single sign.
"Not everyone likes the Las Vegas or Times Square look," says Roger Diebold, president of Solchroma. Therefore, the company is developing signs that are fully reflective in sunlight.
Meanwhile, companies like Ads Reality are combining digital signage with augmented reality. Even when a store is closed, customers can stand in front of an Ads-powered window sign and interact with 3-D characters using a mobile app. With the company's "AR Window" product, 3-D characters appear to be inside the store with the customer.
Ads Reality also offers an augmented reality app that allows you to see what a product like a dishwasher or fridge would look in a live camera feed of your home.

6. Customer-assistance apps
Mobile apps such as Screenfi's Instassociate provide the equivalent of Uber for retail. When customers request assistance in a particular store department, the app responds and calls an assistant over. It also provides useful data for retailers on average response time and the degree of activity for various sales associates.

7. Smart mannequins
When shoppers touch a sensor patch on a smart mannequin, they can read information about the clothing on a nearby digital display. Sensor bullet analytics also enable stores to gain insights on customer clothing preferences. The information provides a feedback loop on favored colors, sizes and features, notes Joe Sullivan, COO of Scala.

8. Lift-and-learn technology and digital displays
With lift-and-learn walls designed by companies such as Scala, customers can lift up items like gaming mice or a pair of shoes and access a description of the product displayed on the screen next to it. Stores can track which sales originate from a lift-and-learn experience, according to Sullivan. Not only can this technology increase dwell time in stores, but shoppers can also take this information and apply it to their online purchases.
"Brick-and-mortar activity could feed online behavior," Sullivan says. "We can help with that with different sensors."
User experience is key for shoppers
As companies continue to implement the latest innovations in stores, they'll need to avoid technology overload while keeping ease of use in mind, according to Phipps. Always consider the basics, he advises.
The ability to find a product, try a product, pay for a product and leave remains absolutely key.
"The ability to find a product, try a product, pay for a product and leave remains absolutely key," Phipps says. "Technology for technology's sake is frustrating as opposed to anything else. It should be seen as an enabler to retailers as opposed to a threat."
Even with e-commerce and advances in tech, customers will keep coming back to stores, notes Phipps.
"The experience of retail is important to many customers," he says. "They know they can buy a product from anywhere, but the experience that can be delivered in a store environment simply can't be replicated online."
MORE FROM PLAY OF THE LAND: