Adaptive Re-Use Gives Old Assets a New Lease on Life
20 January 2016 by John Salustri
THESE WALLS CAN TALK
Shorenstein, the San Francisco-based owner and developer, isn't recreating the wheel, just the building where the wheels were attached.
The building in question, located in Los Angeles, is a 260,000-square-foot structure built by Henry Ford in 1914 for the assembly of Model Ts—and later, Model As—to feed the local, growing automotive need. (This is LA, after all.)
Shorenstein bought the building last year for $35 million, and is now elbows-deep in its renovation. But the adaptive re-use of obsolete real estate isn't unique to the City of Angels. Across the U.S., obsolete factories—from the Ford plant to the Philadelphia Navy Yard—are being resurrected for a new generation of users who appreciate yesteryear's utilitarian caché and are willing to pony up modern rental rates to borrow a piece of it.
The Ford Factory is located in what is now the LA Arts District, which itself is undergoing an adaptive re-use—its second, in fact. When Ford arrived (with plans to assemble parts shipped by rail from Detroit), the neighborhood was already a bustling industrial area. By the 1980s, the bustle was gone and many of the businesses had relocated or closed, leaving what CBRE senior vice president John Zanetos calls a depressed area, at a time when "local artist communities, such as Venice or Santa Monica, were becoming more expensive."
By 1930, Ford had also pulled up stakes and relocated to Long Beach, where it still operates, and the factory passed to other users, including a defense contractor and ultimately a toymaker, before being abandoned in the 1990s.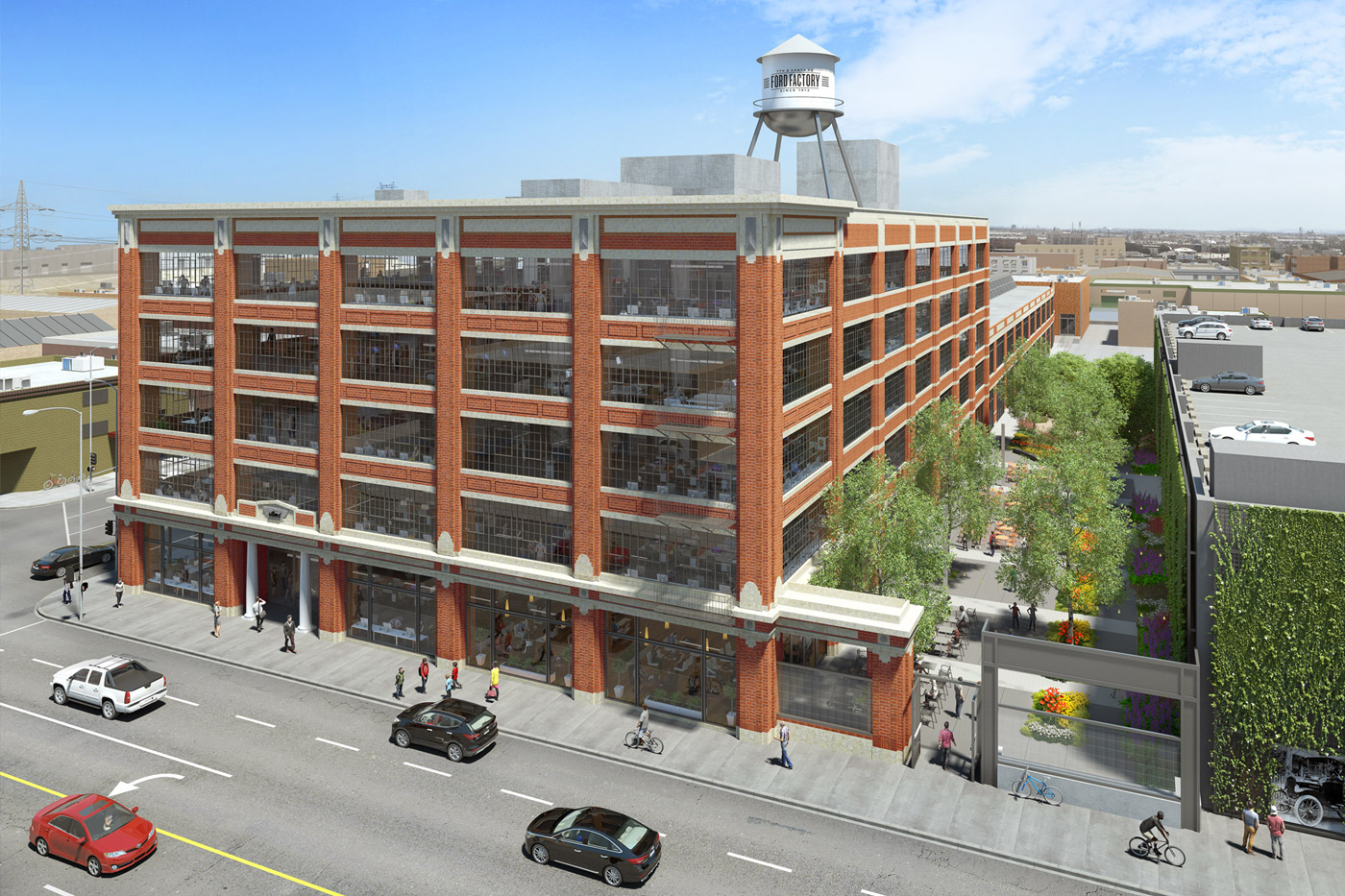 Bohemians Rhapsodic
Struggling artists found the depressed rents appealing, enough so that the City created a zoning overlay to allow for live-work uses in the industrial sector, says Zanetos. Today, the submarket has grown beyond the artistic community, and the office space that has come on line is "geared more to creative uses. We see technology, entertainment and design-related tenants such as architecture firms coming in."
Russ Cooper, Shorenstein's managing director who led the acquisition effort, says base-building construction will be complete by mid-summer, and he targets late 2016 for occupancy. Meanwhile, there's a lot of heavy lifting necessary to bring a century-old factory to modern code—from power plants to HVAC and restrooms. And certainly, "Open-top freight elevators simply don't work for passenger travel," he says.
Extra-thick concrete floors also provided modern challenges. Even the visionary Henry Ford couldn't foresee "lateral-resistance earthquake requirements," says Cooper. "We're creating the bracing and foundation work to provide the lateral resistance required by code."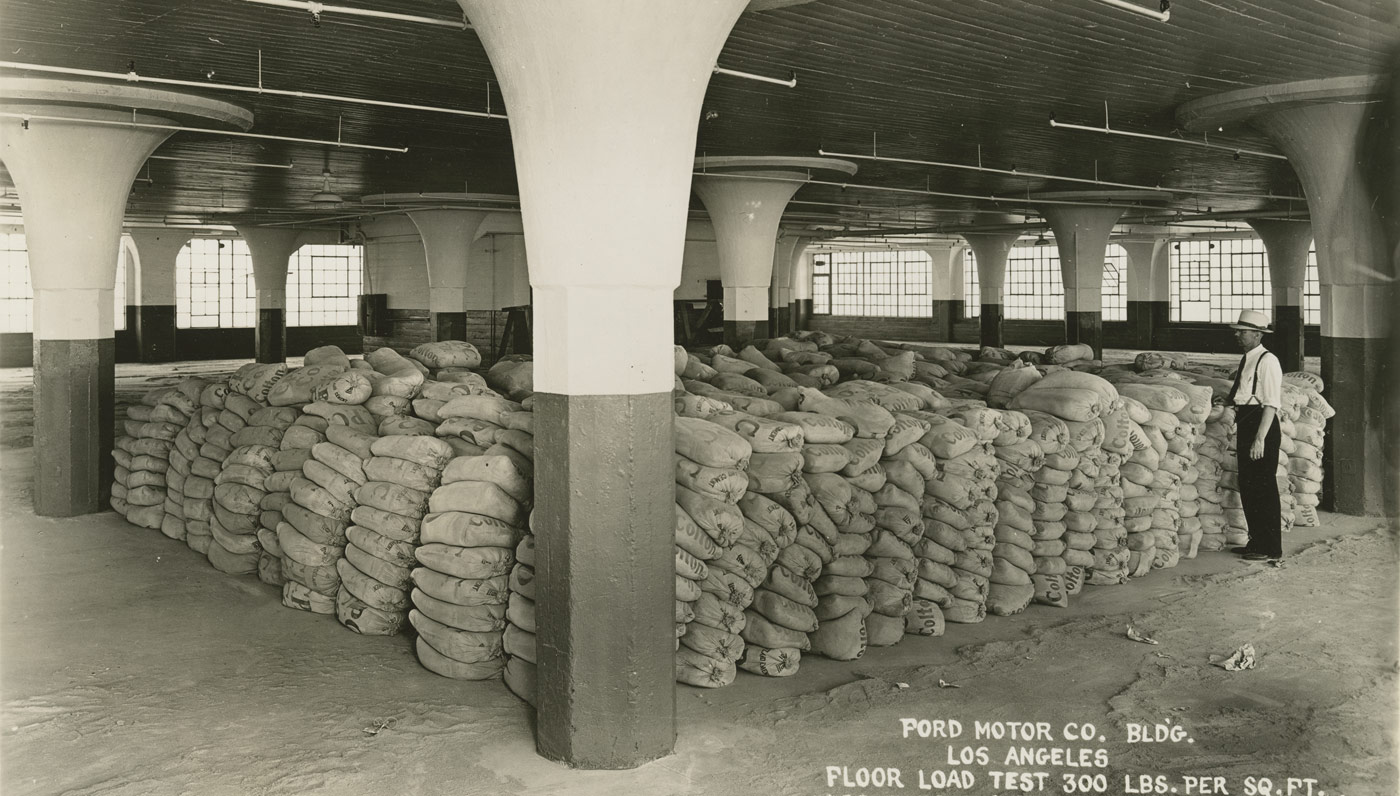 What Price is Cool?
But, while the design lacked certain modern necessities, it also boasts elements that could only be described as cool—features such as mushroom-top columns to support floor loads, poured-concrete interior walls that reflect the grains of the wood-plank forms used at the time, and small-pane, steel-frame windows. The budget is off the record, but Cooper says much of it went for re-glazing the windows with high-performance sandwich glass, a key component of the LEED Gold certification Shorenstein is seeking.
Neither Zanetos nor Cooper will discuss rents specific to Ford, but Zanetos puts average Arts District monthly asking rents at roughly $3.50 per square foot triple net. But this isn't about price, the team says; it's about value—specific to Ford and to the district as a whole.
"Potential tenants here seek this environment, this vibe," says Cooper. "They're not going downtown and looking at 50-story office towers. Their tour list includes our building and buildings like it in Hollywood and Culver City."
"Whenever you put a vacant building back into use, it benefits the community," says Zanetos. "The Ford Factory is a critical component of the Arts District revitalization, because it'll serve as both a focal point for other potential tenants and a business hub."
Besides, it's hard to put a price on cool.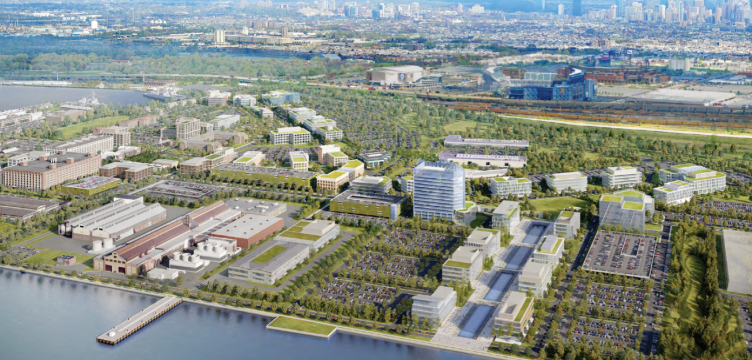 Naval Maneuvers
But not all factories are contained within four walls. In the depths of World War II, the 1,200-acre Philadelphia Navy Yard produced a whopping 60 new ships. According to John Grady, president of the Philadelphia Industrial Development Corp. (PIDC), that amounts to "an average of one new ship a month." And that doesn't include the "hundreds of others" in for repair.
A virtual city-within-a-city, the Navy Yard supported 50,000 civilian workers and could house thousands of Navy personnel waiting for their ship repairs. That translated into some 200 buildings, from hardcore production and support offices to single-family homes and barracks—even a jail. Many of the assets are on the National Register of Historic Places.
Today, the PIDC oversees the redevelopment of the Navy Yard's infrastructure for private development. So far, says Grady, "We've renovated old officers' homes into professional offices, and updated older production facilities into new manufacturing space," for such tenants as GlaxoSmithKline and Tasty Baking.
But what Grady characterizes as the Yard's "signature adaptive re-use project" is the world headquarters of Urban Outfitters. To house some 2,500 employees, the retailer "renovated a collection of original shipyard manufacturing buildings into a contemporary campus." That campus includes offices of course, but also common spaces and restaurants, all against the backdrop of "great industrial spaces that offer natural lighting, high ceilings and big open bays for collaborative work."
But to get to this point, there was massive cleanup—most of it performed by the U.S. Navy—of lead paint and asbestos in addition to some soil contamination. If anything was missed, as a condition of the base transfer to PIDC control in 2000, "the Navy would be responsible for remediating any undisclosed contamination," says Grady.
The Navy Yard's impact on the local community has been huge. Grady reports more than $1 billion in new private investment supporting nearly 12,000 jobs in a current count of 150 companies tenanted there. The PIDC itself has racked up more than $250 million in publicly funded infrastructure improvements.
Going Double Platinum
And that's not just roads and sewers. For instance, the Navy Yard is supported by a smart micro-grid energy distribution system, owned and managed by PIDC and upgraded in conjunction with utilities PECO and PJM Grid. "We completely rebuilt the power generation and distribution systems to meet market standards," Grady says.
Meeting, even exceeding, market standards is a watchword at the Navy Yard, and he reports partnerships with Penn State to research energy efficiency in commercial buildings. All new construction is LEED certified, some going as high as Platinum and Double Platinum.
With a mix of speculative, multi-tenant and build-to-suit development—including owner/occupied and leased space (rents hover in the mid-$30s per square foot)—the Navy Yard has established itself as a premier office destination in the region, and occupancy is always at or near 100 percent, says Grady. (PIDC's development partner is Liberty Property Trust. CBRE, the publisher of this publication, is the property manager.)
Plus, there's room to grow. A 175-key Marriott Courtyard will soon be joined by a second full-service hotel of the same size, serving Navy Yard visitors and the nearby Philadelphia International Airport and Stadium District markets. Grady reports that PIDC is in talks with the Navy to lift restrictions on permanent residential structures. "Developing 1,000 to 1,500 multifamily units would be the capstone to our vision," he says. And it would drive more amenities, such as retail and dining. That vision calls for a total development of "12 or 13 million square feet. We're about 50 percent of the way there."
Whether it's a self-contained building in an up-and-coming Los Angeles neighborhood or a sprawling complex on Philadelphia's riverfront, adaptive re-use of obsolete factories pumps new energy into the cities they serve, redefining the area, the asset and even the corporate image of tenants. It also proves the adage: Everything old is new again.
MORE FROM THESE WALLS CAN TALK: