7 Tech-Savvy Stadiums Revolutionizing the Fan Experience
05 November 2015 by Jake Appleman | 3 min read
THESE WALLS CAN TALK
The age of technological innovation in modern sports stadiums has dawned, and there's no better time than now to be a sports fan with a smartphone.
With everything from wireless connectivity to environmentally friendly infrastructure, sports stadiums are providing fans with better overall experiences while also reducing their carbon footprints.
Here are seven high-tech stadiums that stand out for their innovative features.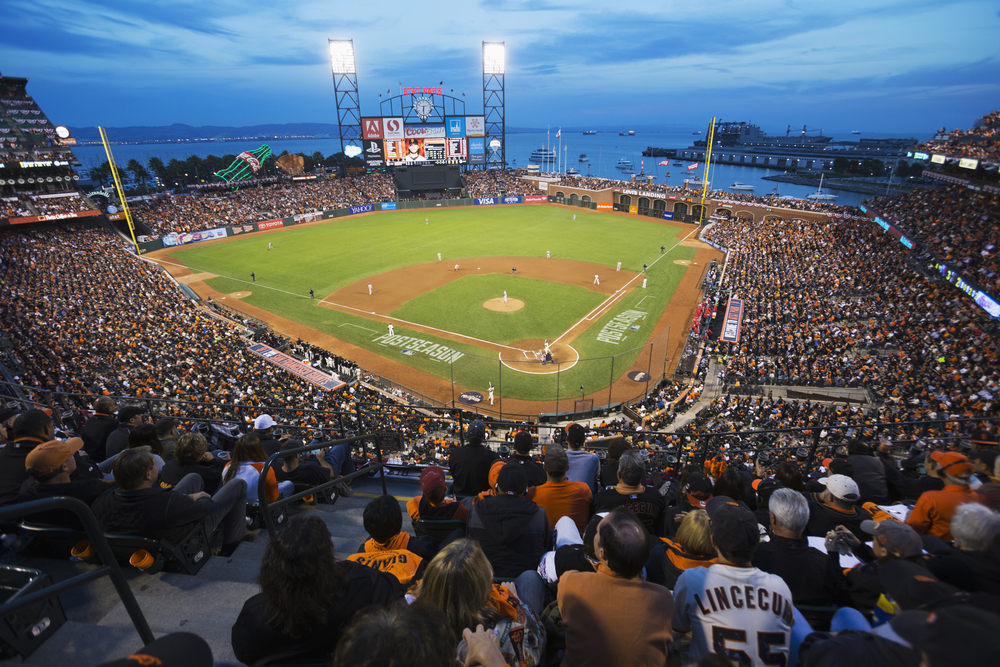 1. AT&T Park (San Francisco Giants) – The San Francisco Giants have always been at the forefront of technological innovation in sports stadiums. In 2004, the team was the first sports franchise to offer Wi-Fi to its fans inside a stadium.
Today, Giants fans enjoy state-of-the-art Wi-Fi service thanks to a Distributed Antenna System (DAS), which uses 1,300 access points strategically placed throughout the stadium to help deal with surges in network growth traffic and boost mobile broadband coverage. The team also uses Apple's iBeacon technology, which enables attendees to access maps, amenities, concessions, video clips and seating upgrades.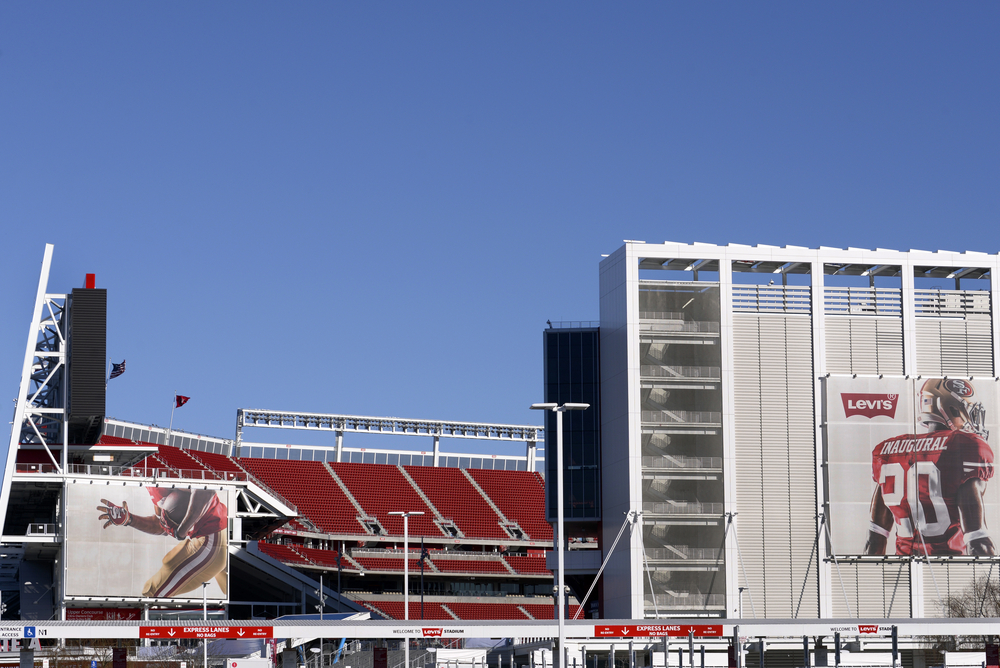 2. Levi's Stadium (San Francisco 49ers) – The new home of the 49ers takes the Silicon Valley sporting experience to another level. Time.com dubbed it "the most high-tech stadium anywhere in the world." The nearly $1.3 billion Levi's Stadium is certified as Leadership in Energy and Environmental Design (LEED) Gold, boasts 68,000-plus seats (most of which are in the lower bowl, moving fans closer to the action), and has 400 miles of cable (and 12,000 physical network ports) for its 40-gigabit backbone network—giving it 40 times the bandwidth of any other sports stadium in the country.
The stadium also has its own mobile app, a place where "68,000 fans can have 68,000 experiences," according to Jed York, CEO of the 49ers. The app enables fans to find the best route to the stadium from their homes, replay game action within five seconds after a play was finished, and order and pay for food. Additionally, for fans feeling the call of nature, the app will direct them to the nearest bathroom. (Bonus: If there's a line, the app can even estimate wait time.)
3. Wembley Stadium (England national football team) – These days, apps are the way to go to give fans the ultimate sporting experience. Like Levi's Stadium, Wembley has its own app that allows fans to watch a goal within seconds after the ball has hit the net, and order and pay for food from the comfort of their seats. The stadium itself boasts two gigantic LED screens (each the size of around 600 television sets), enough escalators to run the length of a 400-meter running track, and an arch that is the "longest single-span roof structure in the world." The field also uses Desso technology that combines synthetic grass with real grass, giving it more durability than a traditional all-grass pitch.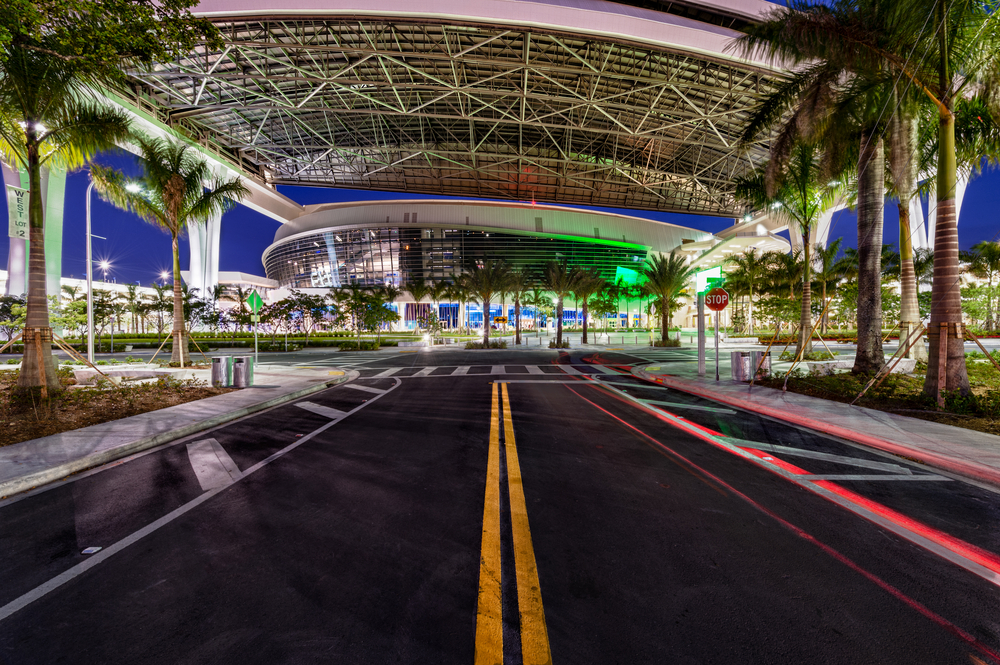 4. Marlins Park (Miami Marlins) – This stadium has the distinction of being the world's first retractable roof structure to earn LEED Gold certification. Marlins Park has reduced its water usage by 52 percent through water-efficient plumbing, and recycles plastic, metal, paper, cardboard and glass waste from every home game. During its construction, over 75 percent of construction waste was recycled. Landscaping around the park uses 60 percent less potable water for irrigation, according to Inhabitat.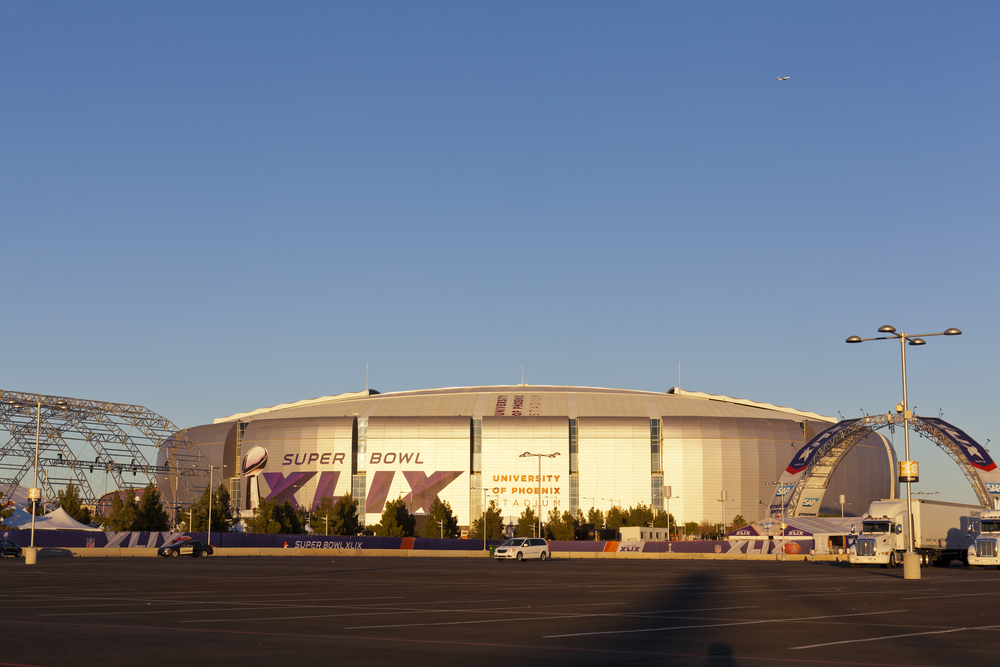 5. University of Phoenix Stadium (Arizona Cardinals) – When drafting plans for the structure, the designers of the University of Phoenix Stadium had more than Arizona Cardinals football games in mind. In addition to a retractable roof, the stadium has a retractable field. Architect Peter Eisenman and Populous, an architecture firm, built a 19-million-pound tray where the field stands, which is 40 inches deep and situated on 13 tracks. When the field is not in use, it can be moved through an opening and placed outside the stadium, where the field's grass can soak in the Arizona sunshine and the stadium's event floor can be better used to host conventions and other non-sporting events.
6. AT&T Stadium (Dallas Cowboys) – The Cowboys set a world record when their home stadium unveiled its 11,520-square-foot scoreboard. Owner Jerry Jones is currently putting the finishing touches on The Star, the Cowboys' new team facility and multi-use center in Frisco, Texas, which has a state-of-the-art playing field that will be used by the team and by the City of Frisco's school district. There is also a two-story retail and conference center and a new Omni Frisco Hotel adjacent to the project, which is slated to open in 2016.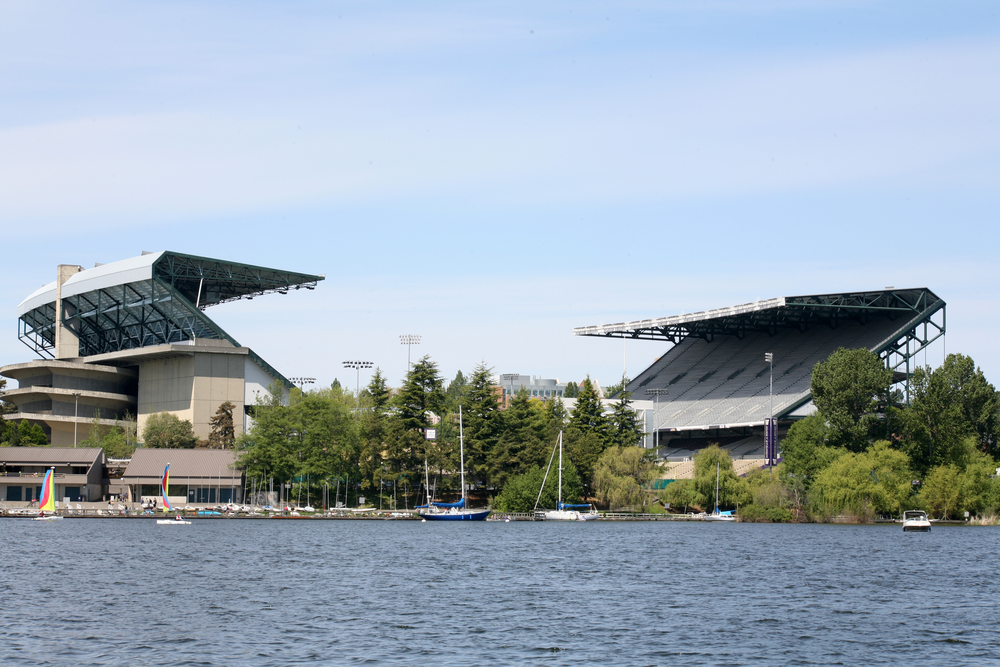 7. Husky Stadium (University of Washington) – The University of Washington's Husky Stadium is mixing high-tech renovations with a mandate to go green. The stadium's scoreboard adjusts naturally to sunlight, while much of the new stadium was made with recycled materials from its predecessor. Trees and shrubs were replanted as well, and the school used "salmon-safe" procedures to prevent toxic and polluted wastewater from entering neighboring Lake Washington.
MORE FROM THESE WALLS CAN TALK: