5 of the Coolest Bike-Friendly Infrastructure Projects in the World
10 September 2015 by Giovanna Fabiano | 3 min read
HYPERLOCAL
For the first time ever, more than half the world's population—3.7 billion people—lives in cities, and that number is expected to double by 2050. Rising urbanization will have a profound impact on our built environment, and it's no secret that cities will need to come up with better, more effective transportation solutions to help commuters navigate already-crowded corridors.
Helping people bike to work is a start, and several cities around the world are investing in infrastructure that makes cycling safer and more accessible to commuters.
Plain and simple—encouraging (and enabling) residents to bike more makes good financial sense.
There's plenty of research that shows biking makes us generally happier and healthier. There's even a recent U.S. Census Bureau report that found that not only are more young, urban adults biking to work, but that cycling is steadily on the rise among wealthier employees.
But a study released last year out of New Zealand found that cities that spend the most on bike lanes reap the biggest financial rewards. Plain and simple—encouraging (and enabling) residents to bike more makes good financial sense.
Researchers in Auckland, New Zealand, found that if the city were to build a network of separate bike lanes and slow down traffic speeds, it could increase cycling by 40 percent by 2040. Adding only a few lanes sporadically would only increase bike traffic by 5 percent.
Here are some of the coolest, bike-friendly infrastructure innovations popping up around the globe.
1. The Floating Saucer
Cyclists looking to cross a multi-lane highway in the Dutch city of Eindhoven can now hover above it, "ET"-style. Suspended above the roadway, the Hovenring, nicknamed "the floating saucer," is a safer, faster option for the thousands of cyclists commuting around the city. Eindhoven is also home to a whimsical "Starry Night" inspired path—an homage to its most famous resident, Vincent Van Gogh. Artist Daan Roosegaarde created a glowing bike path that relies on solar-powered LED lights and interprets the classic oil on canvas by the post-impressionist painter.
2. Bike-only Skybridge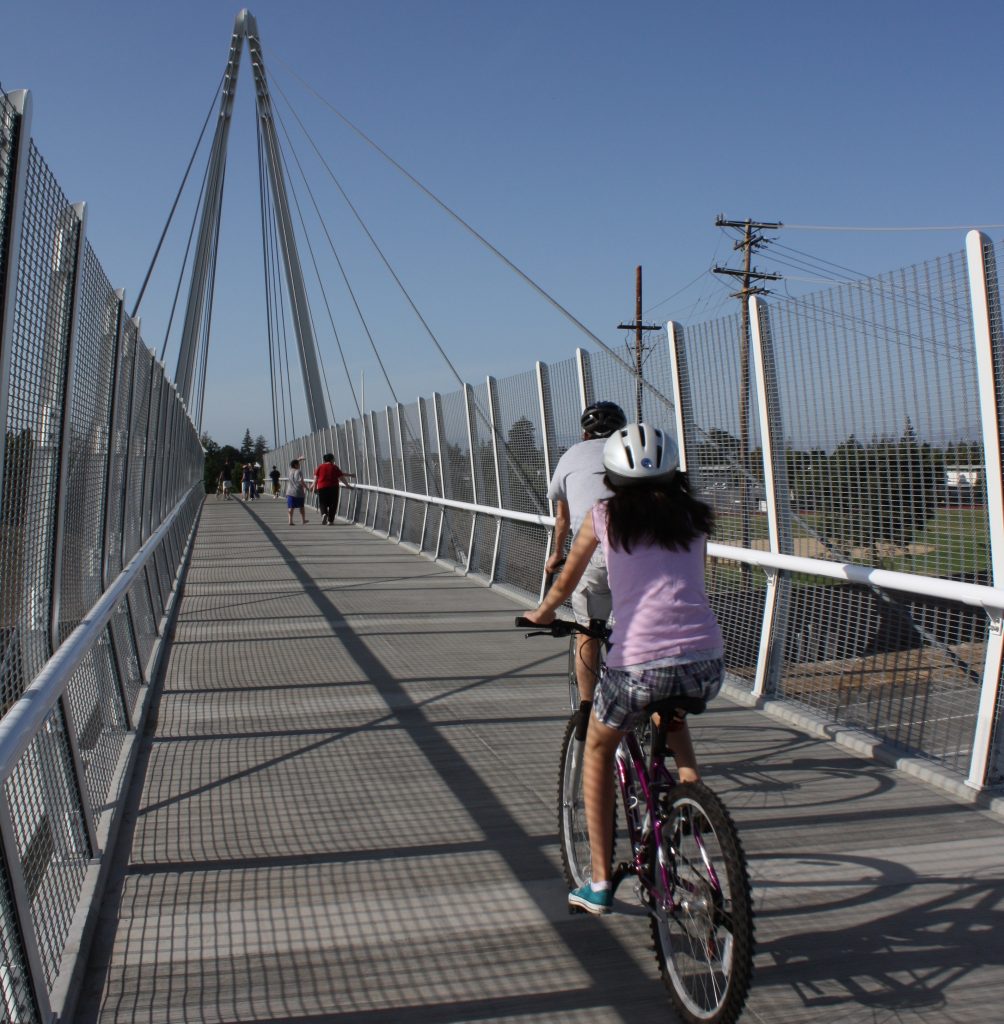 The beautiful Don Burnett Bridge (also known as the Mary Avenue Bridge) in Cupertino, Calif., traverses 11 freeway lanes and is supported by 44 white cables. Exclusively reserved for cyclists and pedestrians, the bridge offers a convenient solution for riders who would otherwise be stuck in the city's traffic-plagued roadways.
3. "Dooring Zones"
A pilot program in Ottawa, Canada, is a small innovation that could have a huge impact on safety. Cyclists' constant fear of being hit by an opening car door would be put to rest, thanks to a "dooring zone," which spaces cyclists far enough from car doors to avoid collision. In New York City, after a parking-protected bike lane was installed on Manhattan's Ninth Avenue, all traffic-related injuries dropped 50 percent. Injuries to pedestrians dropped 29 percent and injuries to cyclists dropped 57 percent, according to Transportation Alternatives, a New York City-based nonprofit.
4. Protected Intersections
Davis, Calif., the city that brought America the bike lane 48 years ago this summer, has just finished work on a protected intersection for cyclists. That's right—no cars; just bikes. Austin, Texas, has already built two dedicated intersections and is planning more, as are Salt Lake City, Sacramento and Menlo Park, Calif.
5. Art and Cycling
In perhaps what is known around the world as the friendliest of bike cities, a long battle ensued in Amsterdam over whether the bike path through the Rijksmuseum would remain open despite museum renovations. But Amsterdam cyclists won out and can continue to cut through the center of the museum, making for an easier and more inspiring daily commute.